Source: China.org.cn
04-20-2009 10:57
Special Report:
Tech Max
BEIJING, April 20 -- The financial crisis has hit all sectors of the world economy hard but the Internet still offers bright prospects, said Xi Guohua, Vice Minister of Industry and Information Technology of China (MIIT) at the Boao Forum for Asia in China's southernmost island province of Hainan on Saturday.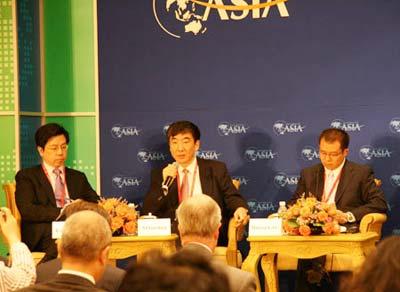 Xi Guohua (Center) speaks at the 2009 Boao Forum of Asia in Hainan
Province on April 18. (Photo: china.org.cn)
China's IT industry is managing to maintain strong momentum amid the pernicious global financial crisis. Early this year, MIIT issued the long-awaited third-generation (3G) mobile phone licenses which helped bring strong growth to the IT industry, said Xi.
According to the minister, e-commerce has great potential in China, but currently the country still lacks two essential conditions - an online credibility system and an online certification system -- to enable wide promotion of online businesses. According to a recent survey, said Xi Guohua, more than 80 percent of Chinese Internet users were worried about the security of their online personal information even though they had installed anti-virus software on their computers.
To prevent IT businesses from suffering excessively through the ongoing crisis, said Xi Guohua, there should be a clarification of the role of Internet. Internet is a common resource. Everything it achieves is based on the progress of the real economy. To weather the gloomy global situation, the development of the IT industry must be consistent with the development of the real economy.
At present, the Chinese government is working to guide the construction of an optimized Internet structure and there will be more measures to strengthen the management of online information.