Source: Xinhua
03-16-2009 14:19
Special Report:
Tech Max
WASHINGTON, March 15 (Xinhua) -- The U.S. space shuttle Discovery lifted off on Sunday from Cape Canaveral, Florida, on a mission of delivering the International Space Station's (ISS) fourth and final set of solar array wings, completing the station's truss, or backbone.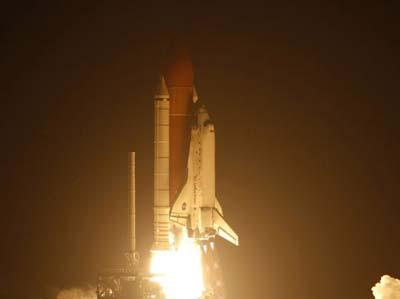 The space shuttle Discovery takes off from launch pad 39A at the Kennedy
Space Center in Cape Canaveral, Florida March 15, 2009. Mission STS-119
will carry a crew of seven astronauts to the International Space Station.
(Xinhua/Reuters Photo)
It is NASA's first space shuttle flight in 2009.
The space shuttle set off at 19:43 p.m. EDT (2343 GMT), thundering into a clear sky. Thousands of people came to Kennedy Space Center to see the blastoff.
The NASA TV shows that the five engines boosting Discovery and its external tank towards orbit shut down as planned about eight and a half minutes into flight. Shortly after that, the shuttle entered its orbit with a speed of 17,500 miles (28,000 kilometers) per hour.
"Everything looks perfect on the orbiter," said Mike Moses, the head of the mission management team, at a live broadcast press conference following the launch.
Mike Leinbach, launch director for the mission, also thought the launch was "just gorgeous." "I have seen a lot of launches ...and this was the most visually beautiful," he told reporters at the press conference.
"It was just spectacular. When the orbiter and the tank, booster got up in the sun light ...it was just gorgeous."
The space shuttle is expected to dock with the ISS on March 17.Its seven crew, commanded by Lee Archambault and include Koichi Wakata, the first Japan Aerospace Exploration Agency's resident station crew member. He will replace NASA astronaut Sandra Magnus as part of the ISS' Expedition 18 crew.
-- Click for more news in Tech Max >>