Source: Xinhua
03-16-2009 11:41
Special Report:
Tech Max
LONDON, March 15 (Xinhua) -- Multinational food and soft drink companies are using their own websites to promote unhealthy foods to children potentially as young as four, a new report by Consumers International said here on Sunday.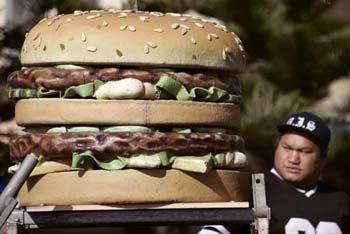 A pedestrian looks at a model of a fast food hamburger on display
in Sydney May 7, 2006.(Xinhua/Reuters File Photo)
In the face of global criticism about traditional junk food advertising to kids, household names such as Kellogg's, KFC, McDonald's, and Nestle are attracting children online with Internet clubs, interactive games, and My Space-style sites, said a report titled New Media, Same Old Tricks, which was released for World Consumer Rights Day on Sunday.
The report was released by Consumers International, the only independent global campaigning voice for consumers. To date, the organization headquartered in London has over 220 member organizations in 115 countries, trying hard to building a powerful international consumer movement to help protect and empower consumers everywhere.
According to the report, parents are also targeted with reassuring messages about the educational value of online games, web safety information and promotional coupons.
-- Click for more news in Tech Max >>