Source: Xinhua
02-16-2009 16:49
Special Report:
Tech Max
WASHINGTON, Feb. 13 (Xinhua) -- NASA mission managers delayed the planned February launch of the space shuttle Discovery for the third time late Friday, pending the completion of ongoing fuel valve tests.
An official launch date for the STS-119 mission has not been set, but for planning purposes, liftoff now is targeted for no earlier than Feb. 27, a statement from NASA said.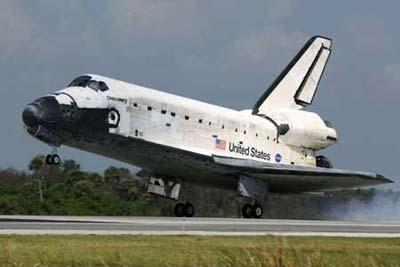 The space shuttle Discovery lands, ending Mission STS-124 to the
International Space Station, at the Kennedy Space Center in Cape
Canaveral, Florida June 14, 2008. (Xinhua/Reuters Photo)
The new planning date is not expected to affect the launch dates for missions that will follow Discovery's flight, STS-125 to NASA's Hubble Space Telescope and STS-127 to the International Space Station.
NASA will hold a news conference on Feb. 20, following a review of space shuttle Discovery's readiness for flight and an assessment of shuttle flow control valve testing.
According to the statement, teams from multiple NASA centers and contractor sites have made significant progress in understanding what caused the damage to a flow control valve in shuttle Endeavour during its mission in November. Discovery's valves were removed, inspected and reinstalled as a precaution after one valve in shuttle Endeavor had been found damaged.
There are three valves in each shuttle that channel gaseous hydrogen from the main engines to the external fuel tank.
Discovery's latest mission to the International Space Station originally had been scheduled for Feb. 12. During a review of Discovery's readiness for flight, NASA managers decided on Feb. 3 to plan a launch no earlier than Feb. 19. However, on Feb. 7, NASA announced that the launch of Discovery will be no earlier than Feb. 22, citing concerns over a valve that keeps fuel flowing in Discovery's main engines.
Discovery's 14-day mission will deliver the International Space Station's fourth and final set of solar arrays, completing the orbiting laboratory's truss, or backbone. The arrays will provide electricity to fully power science experiments and support the station's expanded crew of six in May. Altogether, the station's 240-foot-long arrays can generate as much as 120 kilowatts of usable electricity -- enough to provide power to 42 homes of 2,800square feet.
Discovery will also carry a replacement distillation assembly for the station's new water recycling system.
Editor:Yang Jie