Source: Xinhua
11-13-2008 16:12
By Wu Liming
HAMBURG, Sept. 28 (Xinhua) -- In April 1976, Martin Kummer, a journalist with The Hamburg Morning Post, paid a three-week visit to China and shot hundreds of photos across the country, then a mysterious land largely closed to the Western world.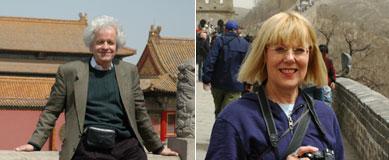 Martin Kummer and his wife Margarete Kummer
Exactly 30 years later in April 2006, Kummer, already in his 60s, made another China tour.
Kummer spent five weeks re-visiting the same places he toured 30 years ago, including Beijing, Shanghai, Guilin, Guangzhou, Shenzhen and Hong Kong, taking another batch of pictures.
On Aug. 8, 2008, when the Beijing Olympic Games opened, Kummer selected over 240 photos from his two China tours and staged a photo exhibition at a ship museum, named "CAP SAN DIEGO," on a berth of Hamburg.
The exhibition, titled "Mao's Empire & China today -- Fascinating Contrast in Photos," showed China's remarkable changes over the past 30 years.
"When I visited China in 1976, it was very difficult to get a visa for the first thing," Kummer told Xinhua.