Source: CCTV.com
07-15-2008 14:54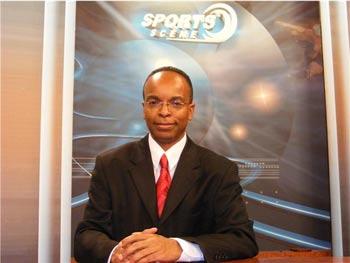 Tony Perkins
Tony Perkins joined CCTV9 on January 1, 2008, anchoring Sports Scene and working on English-language coverage of the Beijing 2008 Olympics. He came to China with extensive broadcast journalism in the United States.
Perkins began his broadcast career while studying at Indiana University in the late 1970s and early 1980s. He worked as a schedule director technician while earning a degree in Telecommunications at Indiana.
From Indiana, Perkins went to Knoxville, Tennessee to work as a television reporter. He later worked as a radio reporter in Rockford, Illinois and Milwaukee, Wisconsin. Perkins re-entered television journalism at WISH-TV in Indianapolis, where he covered the NBA Finals, 3 NCAA Basketball Final Fours, 7 Formula One United States Grand Prix, and 10 Indianapolis 500s. Perkins also contributed to coverage of the Super Bowl-winning Indianapolis Colts of the National Football League. Outside of sports, Perkins gained international news experience reporting courtroom action in the Jeffery Dahmer serial killer trial for ABC radio.
Prior to his appointment at CCTV9, Perkins was a university journalism instructor, and served as news director for WTIU Indiana University, the same TV station where he began his broadcast career.
Editor:Xiong Qu