Source: Xinhua
08-24-2008 23:15
BEIJING, Aug. 24 (Xinhua) -- Tearful laughter, pride and relief were filling in the heart of millions of Chinese watching the big farewell "party" in Beijing's National Stadium, or Bird's Nest, Sunday evening.
The night at metropolis Shanghai downtown Xujiahui was lit up even brighter by the glittering Olympic closing ceremony being displayed on the big screen.
"I want to remember this most beautiful moment forever," said Lu Qian, a young local girl having her photo taken in front of the big screen. Around her, locals were crowded in the square and even on the overpasses, crazily cheering as if celebrating a big festival.
"The Olympics opening ceremony was very dazzling, showcasing the charisma of the Chinese people. The closing ceremony also has its own charm with its peacefull and joyful atmosphere," said Shen Yue, a student majored in visual art of Shanghai-based Fudan University and also volunteer for the Olympics.
Shanghai recruited more than 1,000 volunteers for the Games, 95 percent of whom are college students.
"We took deep pride from providing service for the Olympics," said Zhang Xiao, head of the Shanghai Olympic volunteers.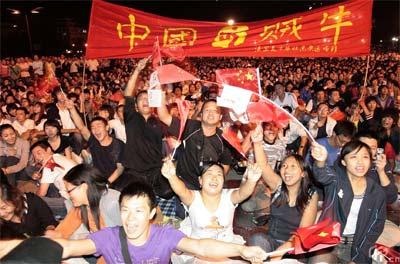 People around China celebrate successful closing of Beijing Olypmic Games
On the closing ceremony, representatives of volunteers were presented flowers by athletes amid thunderous applause from the audience in the center of Bird's Nest.
Young volunteers in Beijing were watching this moment in the square of the Olympic Village, from a big screen. Their work had not finished yet.
"Tears are coming to my eyes. I don't want the Games to end," said Wang Bin, a volunteer from Beijing Language and Culture University, "I really wish that time could be back to 16 days ago."
Thousands of miles away from the Olympic host city, Abla Bekri was sitting along with his two children under a big screen in the biggest city square in Kashi of China's northwest Xinjiang Uygur Autonomous Region.
Since the Olympic opening on Aug. 8, the family had been to this square watching the live broadcast of Olympics events almost every evening. This evening they came specially for the closing ceremony.
"Kids love sport and Games. This evening we want to celebrate with everyone here," He said.
Editor:Zhao Shanchao