Source: China Daily
08-23-2008 21:03
Polish physician Hubert Krysztofiak's evening at the Olympic Games opening ceremony turned out to be a busman's holiday, as when he was called on to help a young Chinese woman his professional instinct superseded all desire for spectacular entertainment.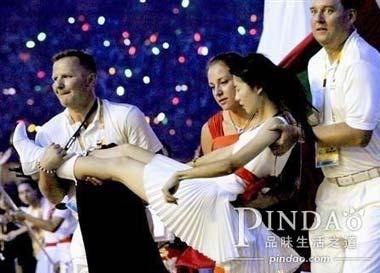 Two Polish physician and one athlete are helping a girl who suddently
collapsed during the opening ceremony of Beijing Olympic games.
"Just as the torch was approaching me I heard someone cry for help," Dr Krysztofiak said.
The call came from 23-year-old Polish Kayaker Beata Mikolajczyk, when she saw a young Chinese woman collapse.
The chief physician of the country's national olympic delegation and his colleague Marcin Krzysztoszek were already on the scene.
"She fainted while we were talking to her," the 40-year-old doctor said.
They looked around for help, but could see neither a red cross team nor means of communication with anyone outside the stadium, he said.
"There was no time to make a diagnosis, all we could do was carry her out of the venue," Krysztofiak said.
As the three started to make their exit, he heard someone nearby shout, "Look, the torch is being taken up."
The picture of three unknown foreigners carrying the unconscious young Chinese woman through the crowds at opening ceremony was published in newspapers and on some major news portals.
It became the talk of China's online community for its portrayal of the true spirit of the Olympics.
The young woman was one of hundreds of cheer-leaders whose job was to keep the huge crowds entertained ahead of the main event.
When the three rescuers were finally found, they had forgotten the incident. It was not until a few days later when a colleague showed Dr Krysztofiak the China Daily story that he remembered.
"It was an incident someone happened to photograph, nothing heroic," Krysztofiak said.
"I was not alone. There are three people in the picture," he emphasized.
Editor:Xiong Qu