Source: CCTV.com
08-23-2008 15:07
For Somalis watching the Olympic Games opening ceremony on television in the bombed-out capital Mogadishu there was little thought of medals, just pride at seeing their team in Beijing at all.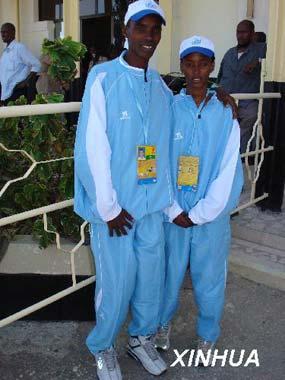 The only two Somalia athletes competing in Beijing
Olympic games -- Abdinasir Said Ibrahim and Samia
Yusuf Omar.
Despite staggering disadvantages, the impoverished Horn of Africa nation has managed to send a small number of competitors to the last half-dozen Olympics. This year their team is 10-strong.
The country slid into anarchy after warlords overthrew a dictator in 1991. Now a new insurgency by Islamist rebels has killed more than 8,000 civilians since the start of last year.
Elsewhere, there were brutal reminders of the plight of ordinary Somalis caught between the insurgents, the divided interim government and its Ethiopian military allies.
Somalia has never won a medal at the Olympic Games. Its best performance came in 1996 when its most renowned athlete, Abdi Bile, took sixth place in 1,500 meters at Atlanta.
Editor:Xiong Qu