Source: CCTV.com
08-23-2008 14:36
The 1001 bib was perfect for Afghanistan's Robina Muqimyar as she must have felt like coming straight out of The 1001 Nights tales to the Beijing Olympics. Her greenish and glittery head scarf with cheetah spots added to the mystique, as she ran according to strict Muslim rules in long tights and a long-sleeved shirt.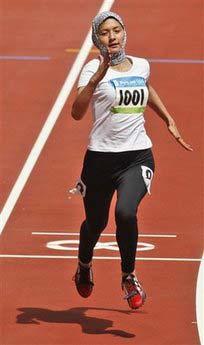 Robina Muqimyar of Afghanistan competes
in the women's 100m heats during the
athletics competitions in the National
Stadium at the Beijing 2008 Olympics in
Beijing, Saturday, Aug. 16, 2008.
Muqimyar — who in 2004 broke the gender
barrier on the Afghan Olympic team was
last in a field of 85 in the women's 100
meters in a time of 14.80, posted while
running with a scarf covering her head.
(AP Photo/Kevin Frayer)
"I am really happy to be here. I am the Afghanistan champion," said the 22-year-old in broken English.
It didn't matter that she finished dead last with a time of 14.80, all that counted was experiencing Olympic values as a representative of her conflict-torn country where women's sport is not widely accepted.
Editor:Xiong Qu