Source: CCTV.com
08-22-2008 18:23
When Oksana Chusovitina won her first Olympic gymnastics medal, a team gold at the 1992 Barcelona Games, most of the competitors in the Beijing Games were toddlers.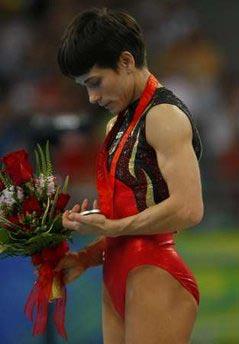 Silver medallist Oksana Chusovitina of
Germany looks at her medal during the
medal presentation ceremony for the
gymnastics women's vault final at the
Beijing 2008 Olympic Games.
Oksana Chusovitina, 33, is the only woman gymnast to appear at five Olympics. The average age of Chusovitina's competitors on vault was 19.
She used to compete for her native Uzbekistan but moved to Germany to save the life of her son who was diagnosed with acute lymphocytic leukaemia at the age of 3 in 2002.
If it were not for him, she wouldn't have been at these Olympics in the first place.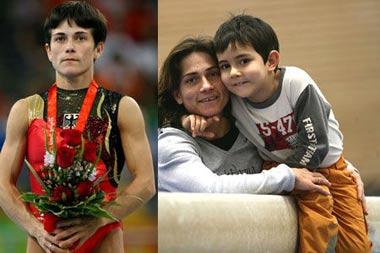 Oksana Chusovitina and her son
Her son's recovery inspired her to train for this Olympics, she said, but she never thought a silver medal was possible.
"Everyone who is a gymnast or who has been a gymnast is simply in awe of her," the Olympic gold medalist Bart Conner said.
Editor:Xiong Qu