Source: CCTV.com
08-22-2008 17:33
Shanteau, 24, of Lilburn, Georgia, was diagnosed with testicular cancer June 19, a week before he left for the U.S. swim trials. But he put off the decision to have surgery until after the Summer Games, his first and last Olympics.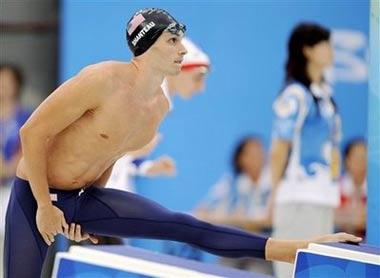 US swimmer Eric Shanteau stretches on the starting block before
his semi-final race in the men's 200 meters breaststroke during
the swimming competitions in the National Aquatics Center at
the Beijing 2008 Olympics in Beijing, Wednesday, Aug. 13, 2008.
The American swam a personal best in Wednesday's semifinals of
the 200-meter breaststroke but it wasn't enough to advance to
Thursday's final. The 24-year-old swimmer will now return to
Atlanta for surgery on the testicular cancer he was diagnosed
with a few weeks before last month's U.S. trials.(AP Photo/
Mark J. Terrill)
Shanteau, an Auburn University graduate, admits that he has some down times because of the disease, but constantly reminds himself: "I have cancer; cancer doesn't have me."
And there is the support of his 40 teammates. He broke the news to them at a training camp. They had suspected something was wrong after Shanteau barely celebrated making the team. Aaron Peirsol, who is a club teammate of Shanteau's, wondered why his friend had been keeping to himself and had been showing up late for practice a lot.
Since the announcement, Shanteau has received e-mails, cards and letters from all over the world, but he points to his fellow swimmers as a huge support group.
He also has the support of his girlfriend, Jeri Moss, who played the key role in discovering the cancer. She was the one who prodded him to go to the doctor one weekend. It was one of those kick in the butt moments that may have prevented a more serious issue.
Asked about how he kept his focus after deciding to compete with cancer, Shanteau said it wasn't difficult.
"A lot of times when you get to an event like the Olympic Games, you can put too much pressure on yourself," he said. "I've kind of got an out with cancer."
It is unlikely that when Shanteau boards a plane to head back to the United States that he will have a medal to take with him. He disagrees. He said he believes he will finish in the top three "if I show up and swim the race I am capable of."