Source: CCTV.com
08-06-2008 11:04
By Marc Edwards
The greatest perk of being a travel presenter is that ultimately you get to visit new and interesting places, which might not have been in your itinerary without the job. Now I live in Beijing, and when it was announced that our next series would be on this wonderful city, I was both elated and apprehensive.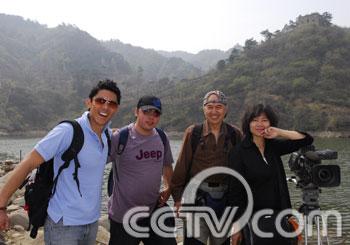 The lake at the Huang Hua part of the Great Wall
On the one hand I'd get to discover new gems within the city, as well as show off some of my favourite places I've grown to love here. On the other hand I was worried that I wouldn't be getting the same excitement I usually get from going to a new exotic location
Luckily filming the series was more like discovering that your phone has a load of features you were totally unaware of, and hence makes you like it even more!
Here are some of my filming highlights: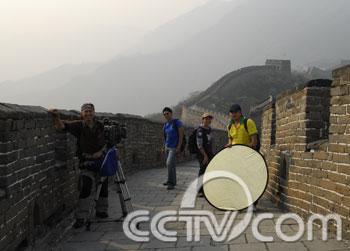 Wrapping up at Mutianyu. (Left to Right) - Ang Laoshi (cameraman),
Me (sweaty guy), Houli (director) and Da Ming (assistant cameraman)
I wouldn't be surprised if the Great Wall was on most people's "Things to see before you die". Well thanks to the series I was able to head out to the Great Wall 3 times during filming. Though only 2 of these were scheduled. Unfortunately due to a technical hitch some of the footage taken at Mutianyu needed to be reshot. However to keep everything fresh we headed to Simatai instead, so as not to go through the exact same motions. Sometimes annoying things really are blessings in disguise. Granted waking up at 3am to head up there was absolutely hellish but, in the end totally worth it. By being there so early I got to feel as though I had the Great Wall all to myself. Plus as an added bonus I was so tired by the afternoon I barely said a word off camera, which I think the crew really appreciated for a change!