Source: China Daily
04-21-2008 15:32
SHANGHAI - Tibet has always been part of the Chinese territory, according to historical documents released here for the first time on Friday.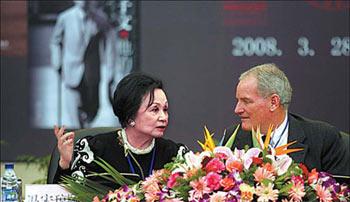 Laurette Soong Feng talks with Richard Sousa, associate
director of the Hoover Institution, on Friday in Shanghai.
[China Daily]
The papers, co-released by the Hoover Institution, under Stanford University of the United States, and Shanghai's Fudan University, comprise archival documents and telegrams from T. V. Soong, the financial minister of the Kuomintang (KMT) prior to 1949.
In a telegram to Chiang Kai-shek, then Chinese leader and KMT chairman, dated May 21, 1943, Soong wrote: "(Then British Prime Minister Winston) Churchill said that recently it has been alleged that China has concentrated troops in order to attack Tibet I replied that I have never heard of such a message.
"And meanwhile, I said that Tibet is not an independent nation, as Churchill had claimed. All previous agreements between China and Britain have recognized that China possesses sovereign rights in Tibet, and I believe this fact has already been under your careful examination."
Chiang wrote back, saying: "By treating Tibet as an independent country, Churchill has denied the territorial integrity and sovereignty of our country. It's a great insult. I did not expect Britain would make such a statement Tibet is part of China's territory, and Tibetan affairs are China's domestic affairs."
Wu Jingping, professor of the department of history at Fudan University, said on Friday: "From these historical documents of 65 years ago, people can be sure that China undoubtedly possesses the sovereign rights in Tibet."
Wu has spent many years studying Soong.
"Soong's historical documents are just the start, more records will be unveiled to public," he said.
"Future publications will continue to present the writings, oral histories, private correspondence and personal photographs of many important figures in modern Chinese history."
The files released on Friday had previously been held at the Hoover Institution and this was the first time they had been made public.
Laurette Soong Feng, the daughter of T. V. Soong, was at the release of the documents, which have been compiled into three books printed by the Fudan University Press. It was the first time she had been in Shanghai for 60 years.
The Hoover Institution is currently assembling a collection of the diaries of Chiang Kai-shek and his son, Chiang Ching-kuo - with the help of Chiang's family - as well as copies of papers from the Kuomintang.
Editor:Xiong Qu