Source: China.org.cn
01-15-2008 08:38
Edwin Maher, a veteran Australian news reporter and weatherman, is the first foreign news anchor to work for China Central Television (CCTV). He has just received China's National Friendship Award in Beijing, the highest honor for foreigners who have made significant contributions to the development of Chinese society. Recently, his western counterparts have criticized Maher for lowering himself to be a mouthpiece for the Chinese government. However, Maher asserted that he was just doing a news anchor's basic job.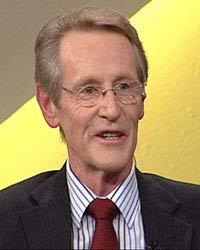 Edwin Maher, a news anchor in CCTV-9
Come to China, come to a unfamiliar environment
Maher decided to work in China on a whim after his wife died in 2001. He admitted that he had no fixed idea about this ancient country and simply wanted to get away from his familiar environment. A job advertisement by China Radio International (CRI) brought him to China as a broadcaster and then he worked as a columnist for the China Daily. But Maher's fame lies in his CCTV broadcasts. He doesn't think that he is compromising himself by working for the Chinese media. He argued that the bottom line is that as a news anchor, his job is to read the news reports he was given as clearly as possible. That applies equally whether he worked for ABC in Australia or CCTV in China.
"You can never please all the people all the time; you can only please some of the people, some of the time," Maher said during a talk show hosted by CCTV-News. "Wherever you are working, you just have to use your skills to the best of your ability and do the job as well as you possibly can."
Maher said he still had his friends back in Australia who also worked in the media standing behind him, and also his Chinese colleagues and hundreds of Chinese netizens have shown their support.
More similarities than differences
Maher admitted that the proportion of positive news in Chinese media is usually high. However, he doesn't think that causes him any great problems. While working with his Chinese colleagues, he said that there were more similarities than differences. He did suggest that they use some news from other sources than the Xinhua News Agency to make stories more complete. And his advice was always accepted and followed.
"Propaganda" can be translated to PR
Maher said he accepted the fact that as a national broadcaster owned by the government, CCTV-International might have a certain amount of "propaganda" which entered the news. However, in his opinion, "propaganda" means different things to different people. Years ago, the word might have a negative connotation but these days, it can be translated as a form of public relations (PR). The Chinese media has changed a lot and is still evolving. Maher presented this idea when he was giving his acceptance speech for the Friendship Award. The door of the Chinese media is opening wider, more voices are allowed and the media has become more objective when reporting sensitive issues.
China is under the spotlight of the Western media
Although he had no clear idea about China when he first arrived, Maher opened his arms to get to know this country. He noticed that China has attracted more and more attention from the West. After China joined the WTO, its global position rose, not only in the economic world but in general as well. More foreigners are interested in what is going on in China. Moreover, this summer Beijing will host the Olympic Games, causing all kinds of stories and facts about China to be examined very closely by Western journalists.(By Huang Shan)
Editor:Xiong Qu