Source: CCTV.com
12-06-2007 14:46
<!a href=# target=_blank>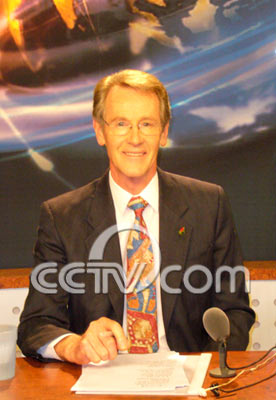 <!a href=# target=_blank>
Edwin Maher came to China by accident. It happened in Melbourne, Australia, on a rainy day in March 2003. With nothing better to do, he turned on his old short-wave radio to see what stations he could pick up, and through the static came a news broadcast in English. At first he couldn't identify the accent, then the announcer said:"This is China Radio International (CRI)."
A few days later, Maher sent an email with his resume to CRI's English service, and was offered a contract to come to Beijing as Voice Coach. In 2004, he moved to CCTV-9, the English Channel of China Central Television International as News Anchor and Voice Coach.
Edwin Maher has been a journalist and broadcaster all his working life. "In fact I really started while at primary school when I delivered the daily newspaper in my hometown, Levin, New Zealand." he remembers.
Then began a long career in the media, spanning the years between 1965 and now. Edwin Maher has worked in radio and television in both New Zealand and Australia, including 20 years at the Australian Broadcasting Corporation in Melbourne.
He has written three books, and been a sessional tutor in the School of Journalism at Australia's biggest university, Royal Melbourne Institute of Technology (RMIT).