Source: CCTV.com
12-05-2007 17:28
<!a href=# target=_blank>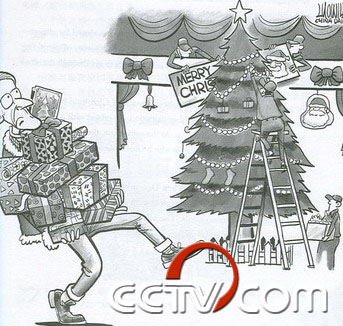 <!a href=# target=_blank>
As a journalist and broadcaster from "down under," Christmas and New Year herald the starts of "the silly season." It is that time when the print and electronic media are peppered with stories which normally would not make the grade during the rest of the year.
While Santa may be exciting people with his "ho, ho, ho," newsrooms where I have worked in Australia and New Zealand will be wrapping their own goodies of timeless tales not subject to tight deadlines or likely to go out of date. Softer stories making up for the lack of hard news are stored to fill out the time slots of television and radio bulletins, and pad the pages of newspapers which need articles on the other side of full-page advertising of holiday sales.
With government departments and major enterprises closed for almost three weeks, someone's huge butterfly collection or a survey of people's dream patterns may be just what an editor needs to get through the slow-news days.
As a foreigner working in China, the approach of Christmas brings conflicting emotions. Feelings of anticipation are mixed with a longing to be with family members far away. At the same time, there is release from the physical and mental pressures which Christmas often brings.
China's celebration of Christmas is not as demanding on its people as in countries like my own. When December 1 arrives, I am accustomed to joining long queues in post offices as people start posting their Christmas cards. The arrival of the first card can generate feelings of stress rather than joy, knowing you wanted to get in before anyone else.