Source: CCTV.com
12-05-2007 17:12
<!a href=# target=_blank>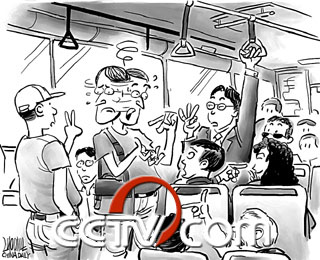 <!a href=# target=_blank>
It's a year since I first arrived in China - a country I originally had no intention of even visiting. But have you ever heard strange "voices" telling you what to do? "This guy's nuts," I can hear you saying. Give me a chance to explain.
The scene is my home in the southern suburbs of Melbourne, Australia. It's cold and raining outside, so for something to pass the time, I switch on my old shortwave radio, and turn the dial aimlessly. Through the static come voices speaking English, but at first I am not sure where they are from.
As I listen closely, the voices identify themselves. "This is China Radio International in Beijing, broadcasting to Australia." I had discovered the English service of China Radio International (CRI). These voices would not only change my plans, but my life.
Voices are my trade. I have been a broadcast journalist all my working life, and at the time was happily working RMIT voice training students of radio and television in the Journalism Program.
When the shortwave broadcast ended, I looked up CRI's home page on the web and impulsively sent off an email, asking if they would be interested in having me voice train their Chinese broadcasters.
Before I had time to realize what I had done, they responded positively and set the wheels of hiring me in motion. "I can't speak Chinese," I told my new boss, Xu Huazhen on the phone. "Don't worry," she replied, "we all speak English." With the SARS epidemic still not completely over, I was boarding a plane to Beijing for six months, my family waving goodbye. While sad to see me go, they were making sure I didn't change my mind at the last minute.
Since then I have trained, and sometimes changed, the sounds of my radio students in CRI's English department. Last March I was hired by CCTV International to not only train their English language broadcasters, but became the channel's first non-Chinese news anchor. It has been an exciting time, but there's one student I cannot train. It's me. I have tried to learn the real voice of China, only to fail, try again, and fail once more.
At times I have felt disabled in China - blind, deaf and dumb to its language.
I was a real dummy when I arrived. I boarded a bus near the Friendship Hotel where I live and asked in English to get off at Tian'anmen Square. Surely that most famous place meant the same in English as in Chinese. Maybe I wasn't saying it clearly. I produced my map, but it was all in English. The conductor had no idea what I was talking about, and eventually found a passenger who pointed to the other side of the road. I crossed over and got another bus, but this time, no one could understand me.
It was a dismal start to my second day in China, but I wasn't giving up that easily. I eventually found the right bus, and an elderly man who heard me buying my ticket, made sure I got off at the correct stop. He couldn't speak much English, but followed me and pointed towards the famous square, its huge flags visible in the distance. I was elated and waved goodbye as I headed for the underpass.