Source: Shanghai Daily
04-04-2007 18:10
<!a href=# target=_blank>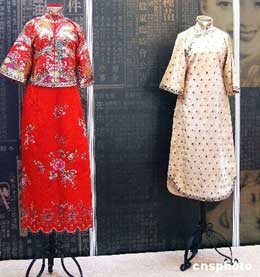 <!a href=# target=_blank>
Designs of Qipao, or cheongsam, are shown during an exhibition in Shanghai in this undated photo. The city, claiming to be the birthplace of the modern version of the Qipao, is seeking a national intangible cultural heritage listing for the traditional Chinese dress. [File Photo: cnsphoto]
Shanghai has chosen the Qipao as a candidate for national intangible cultural heritage listing along with other traditional crafts such as colored glaze and wood block printing, Chinese cultural authorities said on Monday.
The Qipao, also known as the Cheong-sam, originated from the dress worn by Manchu women in the Qing Dynasty. In the 1920s, its modern version was developed in Shanghai by integrating it with Western fashions and it swept the country thanks for its diversified styles and the fashion craze led by actresses of the era, including Ruan Lingyu, Hu Die and Zhou Xuan.
"Initially the dress of an ethnic minority, the Qipao has become a typical dress of Chinese women. As the birthplace of the modern version of Qipao, Shanghai has several very old shops which still make and sell the Qipao. Efforts should be taken to preserve the shops as cultural legacies," said Liu Jian, an official with the Shanghai Municipal Administration of Culture and Radio, Film and TV.
Shanghai will announce the first batch of the city's intangible cultural legacies by June. A total of 77 items were ready to apply for the first batch of city-level cultural legacies.
The end of June is the deadline for declaring the second batch of intangible cultural legacies.
Shanghai began to collect information about folk art and customs, and traditional ceremonies last year. Databases, museums and exhibition centers will be built for intangible cultural heritages.
Editor:Liu Fang