08-18-2006 14:58
<!a href=# target=_blank>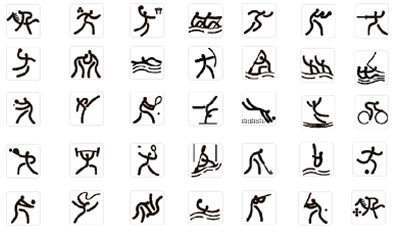 (BEIJING, August 7) -- The Beijing Organizing Committee for the Games of the XXIX Olympiad (BOCOG) released the Pictograms of the Beijing 2008 Olympic Games on the occasion of the 2-year countdown to the opening of the Games.
One of the basic image elements of the Olympics, the Olympic Games Pictograms are widely applied in areas such as Olympic directional instruction system, advertising and communications, landscape and environmental arrangement, TV broadcasting and souvenir designs. The Pictograms play an important role in identifying the Olympic sports as well as in Olympic marketing.
Named "the beauty of seal characters" and with strokes of seal characters as their basic form, the Pictograms of the Beijing 2008 Olympic Games integrate pictographic charm of inscriptions on bones and bronze objects in ancient China with simplified embodiment of modern graphics, making them recognizable, rememberable and easy to use. Skillfully using the effect of sharp contrast between the black and white colors which the typical Chinese traditional artistic form of rubbings have, the Pictograms of the Beijing Olympic Games display distinct motion character, graceful aesthetic perception of movement and rich cultural connotations, thus arriving at the harmony and unity of form with conception.
The Beijing Olympics Pictograms comprise of 35 sport icons, namely those of athletics, rowing, badminton, baseball, basketball, boxing, canoe / kayak flatwater, canoe / kayak slalom, cycling, equestrian, fencing, football, artistic gymnastics, rhythmic gymnastics, trampoline, weightlifting, handball, hockey, judo, wrestling, swimming, synchronized swimming, diving, water polo, modern pentathlon, softball, taekwondo, tennis, table tennis, shooting, archery, triathlon, sailing, volleyball and beach volleyball.
In March 2005, BOCOG invited four professional design institutes and organizations to the solicitation campaign of Pictograms of the Beijing 2008 Olympic Games. The design based on "seal characters" by China Central Academy of Fine Arts and that on "string" by Academy of Arts and Design, Tsinghua University were shortlisted after experts' appraisal.
A joint design working group between China Central Academy of Fine Arts and Academy of Arts and Design constantly improved and perfected the design in accordance with the suggestions of BOCOG and experts home and abroad.
In December 2005, BOCOG submitted the Beijing Olympic Pictograms to the 28 International Sports Federations (IFs) for approval, and all of IFs had endorsed the Pictograms by April 2006. And in June this year, the International Olympic Committee (IOC) granted the set of the Pictograms.
Editor:Luyuying