Source: www.expo2010.cn
05-12-2009 15:36
Special Report: 2010 Shanghai Expo Countdown

China Mobile is preparing a display of its most advanced technologies at the 2010 World Expo to demonstrate its understanding of "Better City, Better Life," a senior official of the corporation said yesterday during a visit to the Bureau of Shanghai World Expo Coordination.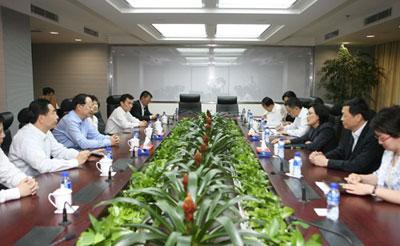 Scene of the meeting
Wang Jianzhou, president of China Mobile, pledged the corporation would make an all-out effort in communication services for the 2010 event as a global partner.
China Mobile and China Telecom have started building a 6,196-square-meter Information and Communication Pavilion at the Expo 2010's Puxi section. It will take visitors on an interactive fun journey exploring cutting-edge information and communication technologies, their applications and influence over the next 10 years and how they will help usher in a more convenient and better life.
Zhong Yanqun, fulltime deputy director of the World Expo 2010 Shanghai Executive Committee, said she hoped China Mobile would apply its cutting-edge technologies to Expo 2010.