Source: www.expo2010.cn
05-12-2009 15:12
Special Report: 2010 Shanghai Expo Countdown

Seven cities in the Yangtze River Delta region are promoting Expo tour packages in the run-up to the 2010 Expo. The packages are aimed at letting visitors discover and experience the "Better City, Better Life" theme throughout the region.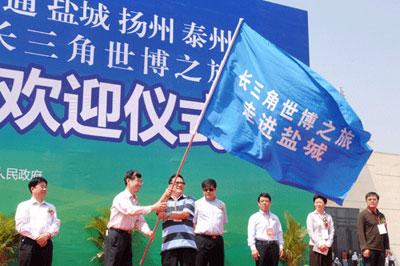 Scene of the promotion
Yesterday in Yancheng, Jiangsu Province, visitors previewed the tour packages. The promotions involved Suzhou, Wuxi, Changzhou, Nantong, Yancheng, Yangzhou and Taizhou.
Cities in the region are working on draft plans to participate in Expo 2010 forums, cultural events and displays in the Urban Best Practices Area. They are also ready to work with the organizer on ticket sales and hotel bookings.
Expo 2010 provides a golden opportunity for cities to share resources and promote regional tourism, officials said.
Editor:Zheng Limin