Source: www.expo2010.cn
05-11-2009 15:38
Special Report: 2010 Shanghai Expo Countdown

Construction began yesterday on Macau's Expo Pavilion. It will look like a rabbit lantern sitting under China's national pavilion.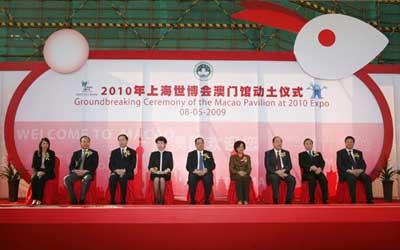 The groundbreaking ceremony of the Macau Pavilion at 2010 Expo
Macau Pavilion will be shielded with a double-layer glass membrane and fluorescent screens. Kinetic balloons will form the head and tail of the "rabbit." In Chinese mythology, the jade rabbit welcomes visitors to a magical fairyland.
Zhong Yanqun, fulltime deputy director of the World Expo 2010 Shanghai Executive Committee, said the groundbreaking of the Macau Pavilion shows the great importance Macau's government and society attached to the Expo. It will deepen the cooperation and exchange of Macau and Expo Shanghai.
She wished the Macau Pavilion and its UBPA case "Tak Seng On" will be a bright spot of the Expo.