Source: expo2010.cn
05-05-2009 17:21
Special Report: 2010 Shanghai Expo Countdown

The China Kweichow Moutai Distillery Co Ltd has become a senior sponsor of the 2010 World Expo, and will provide its famous Maotai or Moutai (baijiu or Chinese liquor) for the event.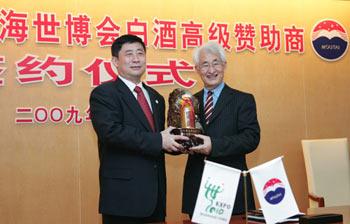 scene of the signing ceremony
The Guizhou-province-based enterprise signed a senior sponsorship deal with the organizer in Shanghai yesterday.
Maotai came to world fame in San Francisco at the Panama Pacific International Exposition in 1915. It won a gold medal after exhibitors accidentally smashed a bottle and its flavor attracted visitors.
Zhong Yanqun, fulltime deputy director of the World Expo 2010 Shanghai Executive Committee, expressed her hope that the company would play a role as a friendship ambassador by displaying China's liquor culture to the world and make contributions to the 2010 Expo.