Source: CCTV.com
03-17-2008 20:25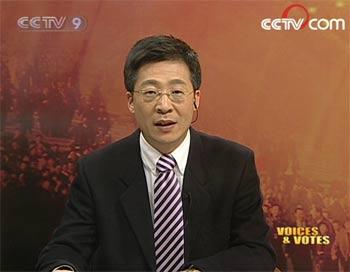 Host: Yang Rui
Premier Wen Jiabao says over and over again that it does not seek trade surplus. But the surge in China's foreign trade has led to drastic expansion of foreign exchange reserves of the country. All these two factors have fueled trade tensions between China and other major trading partners in the West. Some of the disputes stem from IPR infringements, and needless to say, China has fallen victim to such malpractices as well. This year, the foreign trade will slow down due to weak external demand and the hikes in raw material prices such as iron ore, oil and gas.
At the same time, the Chinese authorities say such adverse external circumstances may be a blessing for stimulating the domestic consumption, and turn the trade-driven growth into an inward-looking mode of development. Analysts say such a macro-economic re-adjustment may help improve the livelihoods of ordinary people and strengthen the highly desirable social harmony.
Joining us in this edition of Voices and Votes are Mr. Wang Jinzhen, Vice Chairman of China Council for the Promotion of International Trade, Mr. Joerg Wuttke, President of the EU Chamber of Commerce in China.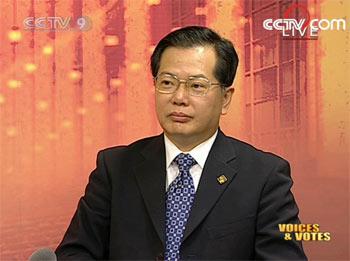 Guest: Wang Jinzhen, vice chairman of CCPIT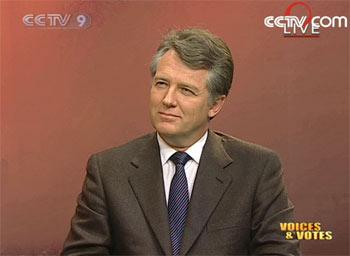 Guest: Joerg Wuttke, president of EU Chamber of Commerce in China
Other factors that may have added to China's huge trade surplus may include the US refusal to encourage high-tech exports to China out of the cold-war mentality. And with the entry into the WTO, more measures have to be taken to increase the labor costs. In the foreseeable future, more imports are encouraged to invest in energy conservation and environmental protection. Such investment will be huge but the global dividends just cannot be measured in monetary terms.
Watch Discussions: Part 1, Part 2, Part 3, Part 4
Related Stories: China´s new Cabinet members approved
Background: China´s trade friction and currency exchange
Editor:Du Xiaodan