03-12-2007 09:46
<!a href=# target=_blank>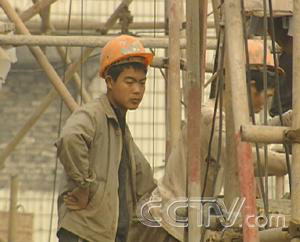 <!a href=# target=_blank>
Despite China's rapidly expanding legal infrastructure, many migrant workers still find it difficult to gain access to the judicial system. Representation from legal aid centers is limited. But some migrant workers have found a champion lawyer. In today's "Across China" special, we'll travel to Chongqing, to meet the unique lawyer who has helped thousands of migrant workers win back their rights.
Much of the city's prosperity is built on the labor of migrant workers. There are over 100 million of them across China. And in their world, there's often little respect for their rights.
Today, over 70 migrant workers have come to the law office of Zhou Litai. They used to work for one of the biggest state-owned companies in Chongqing. After no result from the local labor department, they turned to Zhou, one of the very few laywers in the field.
Su Libing says he's owed his pension, insurance, and overtime pay. He's asking for 5,000 US dollars.
Zhang Jiping says above all, he wants justice. Zhang was at the company for over 13 years. He needs money to make a new start.
Migrant worker Zhang Jiping said, "When we asked the company for our rights, the company fired us without any reason."
Zhou Litai believes migrant workers are entitled to equal protection under the law. He's helped 7-thousand of them get compensation. He's been doing this for 10 years. He said China's legal system does, in theory, protect the rights of migrant workers. But the problem is its implementation.
Lawyer Zhou litai from Zhou Litai Law Office, Chongqing, said, "Some local governments are so eager to develop the economy that they'll overlook the law and sacrifice the health, and even lives, of workers."
Zhou speaks from experience. 20 years ago, he himself was a migrant worker. He found it unbearable, and vowed to become a lawyer. At that time, China did not have a Labor Law.
The National People's Congress set up the first Labor Law in 1995.
And Zhou set off on his crusade for migrant workers.
When his clients can't get to him, he goes to them.
Li Shisheng used to be a coal miner. Two years ago, an accident at work left him paralyzed. He now needs 24-hour care.
Li said, "The compensation is too low. My family used to rely on me, but now the lives of my whole family will face great difficulty."
Li is paralyzed, but he's not taking the situation lying down. He's decided to take up the legal battle.
Today Li Shisheng is going to court, a chance for justice.
20 years ago that would have been unthinkable.
But there's still a long way to go.
The Chinese government stresses that China is a country that is ruled by law, there has been more local courts sprang up and legal aid cases for the weakest in society. But the legal justice can not be measured by sheer numbers, much work needs to be done before anyone is equally protected under the same law.
Editor:Liu Fang