03-09-2007 13:45
<!a href=# target=_blank>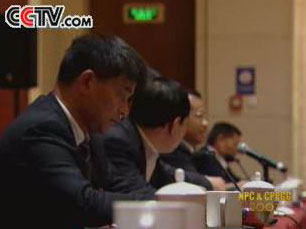 <!a href=# target=_blank>
China's top legislature is likely to adopt the landmark property law at the end of the ongoing NPC session. It's the first of its kind in China to affirm the protection of private property. In Today's "Across China", let's see why this law if passed, would mark a milestone, in China's legislation.
Wang Zhixiao lives in the northern part of Beijing. He's quite annoyed by parking fees imposed by his neighborhood's management company. Because of this, he has been keeping a close eye on the deliberation of the draft Property Law, especially on the relevant clauses relating to ownership of parking spaces in residential areas.
Wang Zhixiao, Beijing resident, said, "I think it's better to have a property law. I feel it's unreasonable to charge additional parking fees. It should be included with the house we buy. I hope the property law will clarify this and safeguard the interest of ordinary citizens like us."
Like Wang Zhixiao, many ordinary citizens have their own expectations on the proposed Property Law which is under discussion by the National People's Congress. This makes the bill an unprecedented center of attention for people from all walks of life.
Issues concerning the interest of the general public, ranging from the ownership of neighborhood parking spaces, to compensation paid for government's land acquisition, are expected to be clarified in the law.
More importantly, for the first time ever, the proposed law affirms to protect private property in the same manner as state property. This is considered a milestone for China's legislation.
Wang Jiafu, civil law expert, said, "The proposed property law will not only benefit the state. It will also be a boon for the people. The phenomenon of paying no respect to private property should soon become a thing of the past."