03-06-2007 16:33
Efforts to build a new socialist countryside must become more than a mere attempt at bolstering image and reputation, warned a leading economist on the countryside, on Tuesday at a press conference.
<!a href=# target=_blank>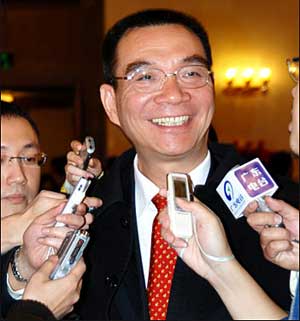 <!a href=# target=_blank>
"However, some reports are emerging that officials have interpreted the plan as merely building new houses or entirely reconstructing a whole village. These situations must be avoided given the heavy burden they would impose upon farmers," said Lin Yifu, director of the China Center for Economic Research of Peking University and a member of the 10th National Committee of the Chinese People's Political Consultative Conference (CPPCC), currently meeting in Beijing.
Several leading experts and senior officials from the CPPCC National Committee gathered at a press conference on Tuesday morning on the sidelines of the ongoing CPPCC session.
Lin reminded reporters that the plan for the new socialist countryside was put forward at the fifth plenary session of the Sixteenth Central Committee of the Communist Party of China (CPC) in 2005. A range of tasks was determined to achieve this goal. These goals sought both to increase productivity and the transparency of governmental affairs in the countryside while also improving the lot of impoverished farmers, such as raising incomes, bettering education and improving healthcare access and social administration.
"The key issue in tackling the problems facing farmers and agriculture is how to increase farmers' income. I had proposed building a new countryside as far back as 1999. Increasing farmers' incomes, improving their lives, closing the gap between towns and cities, and finally realizing agricultural modernization are all basic goals," said Lin.
"Farmers will reap direct benefits by improved public infrastructure construction, emanating from judicious government investment. For example, the government work report, delivered by Premier Wen Jiabao yesterday at the opening ceremony of the current NPC annual session, mentioned the increase in central government funding last year for infrastructure construction, road building, irrigation and improvements to the electrical grid. Meanwhile, safe drinking water reached a further 28.97 million rural people with methane becoming available to 4.5 million more rural families," said Lin.
"The project of building a new countryside as well as all other agricultural policies should depend primarily on increasing farmers' income," he added. "In order to realize these goals, we must improve agricultural production through science and technology, as well as relying on a modern market economic system."
"The progress of modernization, industrialization and urbanization will reduce available arable land and decrease numbers of farmers. To match this decline, we must enhance productivity in agriculture to safeguard our supply of food and agricultural products," Lin stressed.
The first central government document of the year was jointly released by the CPC Central Committee and the State Council on January 29, 2007. It outlines the state's first set of major policies for the year to come and focuses primarily on rural development, a trend followed for the last four years. It states that developing modern agriculture is of prime importance to state authorities in the quest to build a new socialist countryside.
Editor:Liu Fang