Source: CCTV.com
03-03-2007 18:18
Special Report: 2008 NPC & CPPCC sessions

Special Report: 2007 NPC & CPPCC sessions

<!a href=# target=_blank>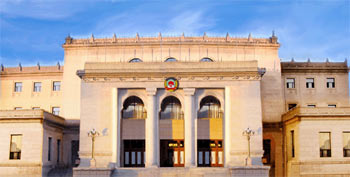 <!a href=# target=_blank>
The Chinese People's Political Consultative Conference, or CPPCC, is one of the main components of China's political system. Liu Ying takes a closer look at the nation's top government advisory body.
Every March, more than 200 members of the national committee of the CPPCC gather in Beijing to discuss vital political, economic and social issues.
During the conference, CPPCC members discuss the government's work report and and submit suggestions or proposals to lawmakers in the NPC. They also attend the NPC's plenary session as observers. In this way the country's top advisors perform their role of political consultation and supervision of state affairs.
These buildings might not be as famous as the Great Hall of the People. But they are the seat of one of China's key political institutions - the CPPCC. Each year, more than three thousand proposals from CPPCC members from all over the country are collected here. The proposals will be reviewed by government departments during the annual session.
The top political advisory body has a diverse membership. It includes members of the CPC, eight non-Communist parties and people with no political affiliation. The CPPCC also includes experts, scholars and public figures in various fields. In recent years, private entrepreneurs and professionals have begun representing newly emerging social sectors.
Since its establishment more than half a century ago, the CPPCC has played a significant role in shaping China's political and economic landscape. As the country steps up its reform of the political system, the top advisory body is expected to have an even stronger influence on the nation.
Editor:Du Xiaodan