He left home at 6 years old to become a monk and returned to a secular life at the age of 20. Having participated in a lot of national competitions and performances and received a number of awards, he is famous as "one of 18 Shaolin boxers". He set up the first martial arts school in Dengfeng, and has cultivated batches of martial arts and professional talents. He has gone abroad many times and helped promote the Shaolin martial arts in the world. He is Shi Yonghan, one of thirty third-generation monks who had resumed a secular life. On January 7, he shared stories of his early life as a monk with our reporter and revealed his wish to reunite with the monks who underwent the training with him at his 80th birthday celebration.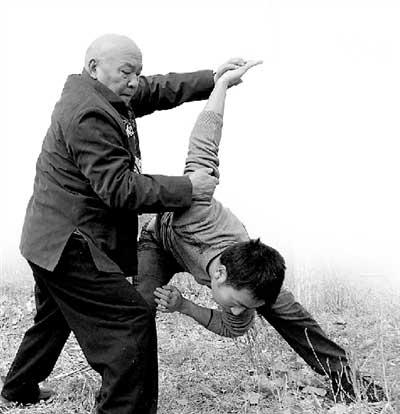 Shi Yonghan exercises with his grandson
Many years of habit
Up at dawn to exercise and recite scripture
Shi Yonghan's secular name is Mao Wenhua, and is also known as Mao Yonghan. He was born on January 26, 1930 and he lives in Xindian Village, Zhongyue Sub-district in Dengfeng. On January 7, our reporters got a glance of Shi at the Ganlutai in the west of the Shaolin Temple doing exercises, which included large flood boxing, small flood boxing, cannon boxing, long and broad sword, long spear, and tree stump training (using breathing techniques to hit the stump with every part of the body).
He squatted and stretched his fists horizontally while holding his breath in his stomach before suddenly pushing himself onto a big poplar, which shook drastically, with branches rustling and leaves falling. Shi remained calm and was at peace before he concluded with an easy countenance, and nothing revealed that he was 80.
Shi told our reporter that the secret of his health was that he still follows the habits he developed when he was at the Shaolin Temple. He would get up at 4:00 am, run a lap around the village road, and then go into the forest of poplars to do basic exercises.
After the exercises, our reporter followed him to his house. There was a hall for worshipping the Buddha on the second floor, and just like the monks in the temple, he burned incenses, read scripture and tapped the wooden fish lightly. After all was done, he shared with the reporter the memories deeply-embedded in his heart.