On the morning of October 13, 2009, at a reservoir in Fangshan District, Beijing, a homemade submarine, made by a peasant from Anhui Province, was successfully tested. The submarine, which is 1.5 meters high and 6.5 meters long, is made out of oil cans, and is furnished with a lid, an oxygen pipe, a warning light and other equipment.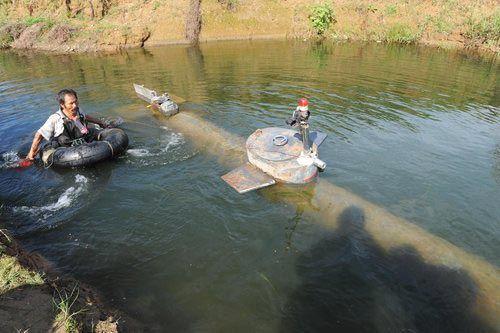 Anhui peasant and his homemade submarine
After researching for two years, and spending a total of over 30,000 yuan, he does not want to apply for a patent but rather meeting with a talent scout.
The homemade submarine was released into the water successfully on the morning of October 13, 2009.
Having been researched for two years, and costing a total of more than 30,000 yuan, the homemade submarine was successfully launched on the morning of October 13, 2009.
At around 4 am on October 13, 2009, a group of reporters led by Tao Xiangli, the owner of the submarine, went to a reservoir in Fangshan. "You're not allowed to come here during the day, so I can only come here and do my experiments at night," 34-year-old Tao said.
Opening the outer package, reporters found that the "high-tech" submarine turns out to be made out of an oil can. It is 1.5 meters high and 6.5 meters long, and furnished with all the essential accessories including a lid, an oxygen pipe and a warning light.
Subsequently, Tao put it into water and personally jumped into the hatch to test it out. After diving for four and a half minutes, he returned to the surface and opened the lid on the top of the submarine, flashing a "V" gesture to show that his two years of research and experimentation finally succeeded.
Tao is an ordinary peasant from Fuyang, Anhui Province, but he has been interested in inventing and creating things since he was a child.
"I made the submarine not for a patent but so that a talent scout can discover me," he said.
Translated by LOTO
Editor: Shi Taoyang | Source: CCTV.com