Master Zhang Shengli believes kungfu frees the body and mind - and could eventually bring world peace.
To find the true heart of traditional kungfu, you need only look as far as the secluded hutongs behind the ever-crowded Wangfujing shopping area.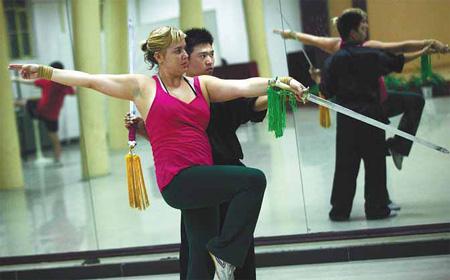 A foreign student of Master Zhang Shengli practices her swordplay under
the guidance of one of Zhang's assistants.
Here can be found a dozen teachers and students all displaying varying techniques and styles: from the energetic art of Shaolin kungfu to the explosive attacking xingyiquan, which imitates the various movement of animals.
Movements of the monkey, snake, hawk, dragon, cock and bear can be copied and have a powerful impact on your opponent. There is also the peaceful taijiquan, which is centered on breathing contol and internal strength.
"Martial arts are not just for the Chinese people to enjoy, but everyone in the world," said master Zhang, who started learning kungfu more than 30 years ago. He has studied at the famous Shaolin Temple in Songshan Mountain and performed for the United Nations.
In 2002, he founded the Beijing Milun School of Traditional Kungfu and, today, it has more than 30 students and five teachers. "Here, everyone is welcome," said Sabrina, a student of Zhang's since 1997. "It is very difficult to find a good martial arts teacher if you are a foreigner and do not speak Chinese. It is very limited for outsiders, so the focus here has been to give more foreign students the opportunity to learn traditional kungfu."
Students from beginner to advanced levels can start at any time.
"Students come and go, especially if they are traveling a lot between Beijing and their home countries, but we want them to feel they learn something here that they would not learn anywhere else," he said.
Kungfu does not just offer strength, concentration and coordination, it also holds the key to many facets of Chinese culture and history, and the costumes and ancient weaponry that decorate the school help to give students a more rounded education of martial arts, he said.
Zhang wants his top students to take the skills and messages of kungfu around the globe, and believes teaching is not just a job, but his duty. Kungfu, after all, could bring world peace.
"Martial arts is not just about kicking and punching, or being big and strong. It is about changing your thought process," said Zhang. "What's the point of practicing martial arts if your mind is not right?
"Martial makes you become a more beautiful person from the inside and makes bad energy disappear."
Editor: Shi Taoyang | Source: China Daily