China
Chinese newspaper: Dalai Clique is saboteur of Tibetans´ peaceful life
Source: CCTV.com | 04-24-2008 13:58
Special Report: Dalai clique doomed to fail

Special Report: 3.14 Tibet Riots

One of China's leading newspapers, the Guang Ming Daily has published an article exposing the ulterior motives of the Dalai Clique. It has labelled the Dalai Clique as the saboteur of Tibetans' peaceful life under the cover of nationality.
According to the Wednesday article, before the March 14 riots in Lahsa, the Dalai clique tried to talk some countries into linking the Tibet issue with the Beijing Olympic Games. They thought the Olympics might be their last chance.
<!a href=# target=_blank>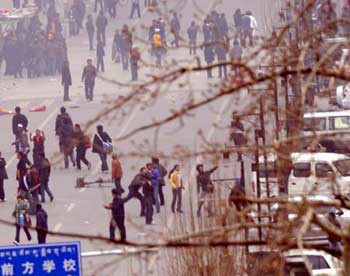 <!a href=# target=_blank>Rioters throw stones to vehicles and stores during the unrest in Lhasa, capital of southwest China''s Tibet Autonomous Region, on March 14, 2008.(Xinhua/Chogo)
After the unrest broke out, killing 18 innocent people, the 14th Dalai Lama called the violence an inevitable outcome of the resistance to China's cultural genocide in Tibet.
In his speech, the Dalai Lama also reiterated the decreasing number of Tibetans in the region. He said Tibetans were the true minority of Tibet, and repeated the rumors of genocide of Tibetans.
Dalai said that 1.2 million Tibetans were murdered by Chinese in the mid 1950s.
But, according to Dalia Lama's Gaxag government's report during that time, the population in Tibet only reached 1.14 million, 60-thousand short of Dalai's claim.
Demographers say there wouldn't be any Tibetan existing if the 73-year old Dalai Lama's statistics truly worked.
The latest official government figures show that Tibet's population is now over 2.8 million, and Tibetans account for 92 percent.
Editor:Zhang Ning