Source: CCTV.com
08-10-2008 17:43
Special Report: 2008 Beijing Olympic Games

China's world championship tandem, Guo Jingjing and Wu Mingxia, have once again made their dominance very clear in the women's 3-meter springboard synchronized diving event.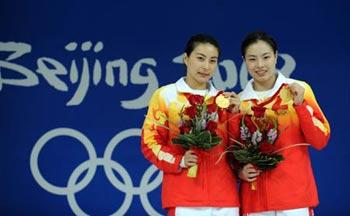 Chinese divers Guo Jingjing (L) and Wu Minxia pose for
picture during the awarding ceremony for women's synchro
3m springboard at the Beijing 2008 Olympic Games in the
National Aquatics Center, also known as the Water Cube in
Beijing, China, Aug. 10, 2008. Guo and Wu claimed the
title in the event with a score of 343.50 poionts.
(Xinhua/Zhao Peng)
The talented duo took the gold before a capacity crowd at the National Aquatics Center on Sunday afternoon. The Chinese twosome's 5 dives earned them a total of 343.5 points as they topped the 3-meter springboard standings for the second straight Olympiad.