BEIJING, Nov. 19 -- Visitors to the National Art Museum of China can now view nine halls full of pictures of the Qinghai-Tibet Plateau, including pencil sketches, watercolor and oil paintings.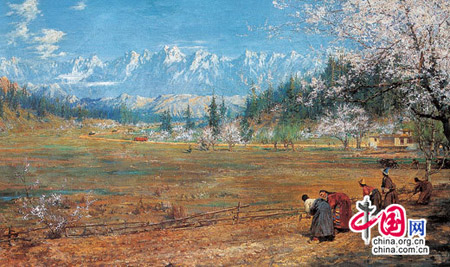 Photo shows an oil painting titled Spring Greets Tibet by Dong Xiwen in 1955. (Photo:China.com.cn)
  With the theme of "Inspiration from the Plateau," the exhibition is in honor of the region's 50th anniversary of democratic reform. According to the museum's official Web site, the art display aims to commemorate the historic breakthroughs and brilliant achievements of the Tibet Autonomous Region.
  Wu Changjiang, executive vice chairman of the Chinese Artists Association and planner of the exhibition, said, "the paintings about the Qinghai-Tibet Plateau are a unique art form from 20th century China. It is our task to research and explain the tradition."
  More than 500 paintings from late and contemporary artists, including Wu Zuoren, Sun Zongwei, Dong Xiwen and Nimazeren, were selected to show the diversity and range of art produced in different periods. No matter the type, all portray various aspects of the Plateau's landscape, people and animals.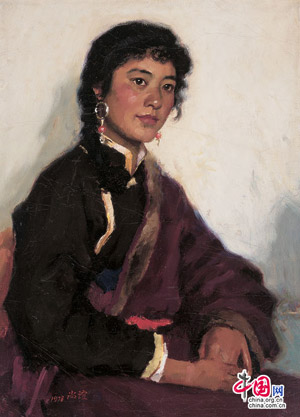 Photo shows an oil painting titled A Member of Song and Dance Troupe by Jin Shangyi in 1978. (Photo:China.com.cn)
  One picture on display is Li Huanmin's mimeograph entitled, "See You Off". It shows a Tibetan girl holding an umbrella and saying goodbye to her lover. Behind the couple stands a horse, ready to take the man away.
  Another picture on display is Dong Xiwen's "Spring in Tibet", which portrays Tibetan farmers plowing the land in the midst of pink flowers and snow-capped mountains.
  "I have never been in Tibet, but the paintings make me feel as if I were there," said one observer, surnamed Chen.
  According to the museum, the exhibition receives 2,000 to 3,000 people each day and is scheduled to close on November 30.
Editor: 卢佳颖 | Source: China.org.cn