BEIJING, Oct. 2 (Xinhuanet) -- Born into a poor family and having been herding sheep for serf owners when he was ten years old, Gonpo had never thought about becoming a mountaineer. However, his fate began to change in 1955, when the 22-year-old met a Tibetan Buddhism pilgrim from Xigaze.
  Asking about what was going on in Xigaze, the sheep herder was told that the People's Liberation Army (PLA) had been stationed in the area and that many young Tibetans went to study in inland Chinese provinces or cities with PLA financing. Gonpo was surprised and eager to find out what was going on there.
  Chairman Mao Zedong shakes hands with Gonpo, who was attending a national confernece in Beijing in 1964. (Xinhua Photo)
  In 1956, the PLA recruited soldiers in his hometown and he became one of them. Nine days later, he went to Xigaze with the troops. It was the first time that Gonpo walked out of his hometown and got to know that the outside world could be so big.
  In the fall of 1958, the National Sports Commission carried out an inspection tour to Mount Qomolangma. "Our deputy squad leader was the interpreter for the inspection team. When he returned from the tour, he asked me if I liked to go mountaineering. I decided to join the team with him without hesitation," Gonpo recalled.
  About 300 people applied to join the team. After a series of examinations, including physical check-ups, interviews and strength tests, only ten were left. Gonpo, who had been serving as a cook for two years in the army, was lucky enough to be one of the ten.
  After a winter's training in the east part of the Nyenchen Tonglha Mountains,Gonpo went to Xinjiang with other mountaineers in July 1959. After some training, they ascended Muztag Ata 7,546 m above sea level. Later, they went to Beidaihe in Hebei Province, Chengdu, capital city of Sichuan Province and Chongqing for more mountaineering and rock climbing training.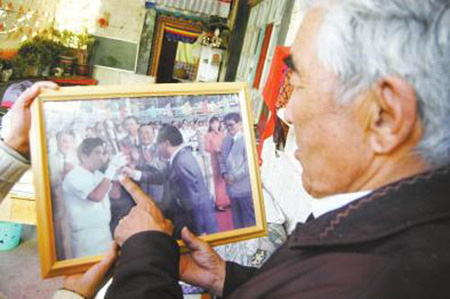 Gonpo is among the first moutaineers who ascended Mount Qomolangma from its north col. (Xinhua Photo)
  In March 1960, the National Mountaineering Team went back to Tibet, in preparations to climb Mount Qomolangma, the highest peak in the world. In the following three months, the mountaineers and transportation personnel traveled between the team's headquarters and various camps, in a bid to adapt to the climate in the mountainous area.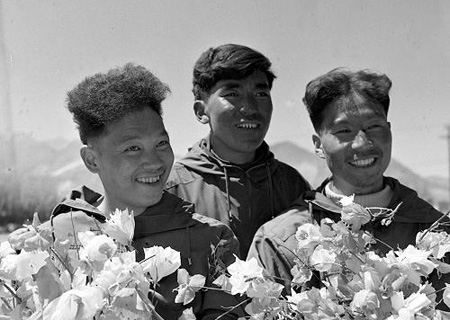 Gonpo (central), Wang Fuzhou (right) and Qu Yinhang are the first moutaineers who ascended Mount Qomolangma from its north col. (Xinhua Photo)
  The north col of Mount Qomolangma was precipitous and there was once a saying that even birds couldn't fly over it. Previously, mountaineering teams from Britain, the U.S., and other European countries had attempted to climb the mountain but all failed. The western mountaineers would not believe that the newly-formed Chinese Mountaineering Team could succeed in scaling the world's highest peak.
  At 4:20 a.m, May 25, 1960, Gonpo, Wang Fuzhou and Qu Yinhua climbed to the top of Mount Qomolagma, making history by ascending the mount from its north col.
  Gonpo became the nation's hero after the successful ascendance. Later he and his teammates went to give lectures in various schools and factories across the country. What he will not forget is that he was received by top Chinese leaders including Chairman Mao Zedong and Premier Zhou Enlai.
  To him, a child from a poor family, it is such a great honor and encouragement. He also made up his mind to make greater contributions to the country's mountaineering cause.
  The mountaineer later went to work in the Sports Commission of Tibet Autonomous Region. As a deputy director of the commission, he organized an expedition team with the aim of climbing 14 mountains above 8,000 meters high. Now his dream has come true.
  Moreover, to protect the natural environment of Mount Qomolangma and curb poaching of wildlife, he proposed to set up an association to protect the wildlife. In June 1990, the Tibet Wildlife Protection Association was set up.
  Now Gonpo has retired and enjoys a happy life in his late years together with his family. "I was a serf when I was young, enduring beating, scolding and humiliation from serf owners. Then it was only a dream for me to have enough food and clothing, "the 77-year-old recalled.
  "I never thought that I could become a mountaineer, let alone be the first Chinese to erect a Chinese national flag on the world's highest peak," he said emotionally.
  "But for for the new society, I would have been herding sheep for serf owners all my life," he added. 
Editor: 卢佳颖 | Source: Lhasa Evening News