BEIJING, Sept. 27 -- Sixty Chinese athletes were honored at the "60 Years, 60 Legends-the most influential athletes since 1949, the founding of the People's Republic" awards ceremony that was held at the National Olympic Sports Center in Beijing on September 6.
  Pan Duo, the first woman to reach the summit of Qomolangma, better known as Mount Everest in the West, via its north side, was one of the honorees. The 70-year-old Tibetan's eyes filled with tears when she received her prize on stage.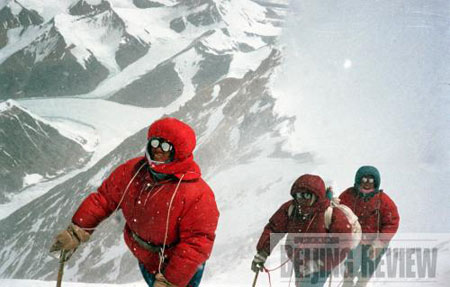 Pan Duo (left) and her teammates presses on to the top of Qomolangma via its north slope on May 27, 1975. (Xinhua Photo)
  "I'm really excited and honored. It is my country that makes me a useful person," she said.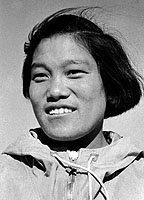 Pan Duo, the first woman to reach the summit of Qomolangma via its north side. (Xinhua Photo)
  Pan was born in Gyamda County in 1939, when Tibet was still in the throes of serfdom. Pan was like many other children in serf families who lived a hard life. Her father died when she was eight years old and her mother raised the family alone. She said a poor and hard life had built her strong body and will.
  "I had to carry 30 to 35 kg of goods over winding Himalayan roads for more than 10 hours every day when I was 13," she said.
  After Tibet was peacefully liberated in 1951, Pan's friends brought her to work at Lhasa's Qiyi Farm, where she grew vegetables. In January 1959, the China Female Mountaineering Expedition came to Lhasa to choose mountaineers and Pan was chosen because she was in outstanding physical condition.
  "I love mountaineering. I had always been dreaming of climbing to the top of the world," she said.
  On July 7, 1959, she climbed Mount Mushitage in Xinjiang. The ascent to the summit 7,546 meters above sea level broke the women's climbing record of 7,456 meters set by a French female mountaineer.
  The plan to climb Qomolangma was put on the agenda in 1975. By that time, 36-year-old Pan was the mother of three children. But she was able to pass all her training evaluations with her extraordinary will and was elected as the team's second in command.
  The expedition began on May 17, 1975. When they reached the base camp at 8,300 meters above sea level, two female and seven male mountaineers began suffering from serious altitude sickness and had to be replaced with substitutes. Pan, the last remaining female member, started her final push on May 26.
  "At that time, I made up my mind to reach the top. I did it on behalf of my 400 million Chinese sisters to prove that we women could do the same as our male companions," she said.
  At 2:30 p.m. on May 27, 1975, Pan reached the top of Qomolangma with eight male members. She became known as the "tallest woman in the world."
  Pan said she still feels excited when reflecting on her past accomplishments. Although the event happened 34 years ago, she remembers every detail about the moment when her team reached the summit.
  "We first erected the national flag. Seeing the flag flying on the top of the world, we all felt excited," she said.
  The team next set up a 3-meter-high metal frame and started measuring the exact height of Qomolangma. They found the summit's actual height was 8,848.13 meters.
  Afterward, Pan lay down for 7 minutes to complete a telemetric radio cardiogram test.
  "We were trying to make clear the different reactions between males and females on the top of the world," she said. "Regardless of the results, my success proved that we females are as outstanding as males."
  In the past, she said, women were regarded as the property of men but since the founding of the People's Republic, women have achieved equal footing with men.
  Today, Pan is leading a peaceful life in Wuxi, in east China's Jiangsu Province, with her husband who also participated in 1975's climbing mission.
  Pan has been elected as a delegate to the National People's Congress five times since the mid-1970s. In 1981, she became vice director of the Wuxi Sports Administration. She is presently the honorary headmaster of the Shanghai Tongzhou Model School.
  "I am trying to pass my strong spirit to young people and tell them they all can be useful people," she said.
Editor: 卢佳颖 | Source: Beijing Review