BEIJING, Aug. 28 (Xinhuanet) -- Since the project to reconvert livestock farms into grassland and to protect the Sanjiangyuan eco-system was started in 2003, Maduo County, a "thousand-lake-county" in northwest China's Qinghai Province, has regained its landscape once dotted with numerous sparkling lakes.
  From the end of the 20th century, due to global warming and destructive human activities, the ecological environment in Sanjiangyuan, the source region of the Yellow River, has become seriously worsened with daily loss of water and soil.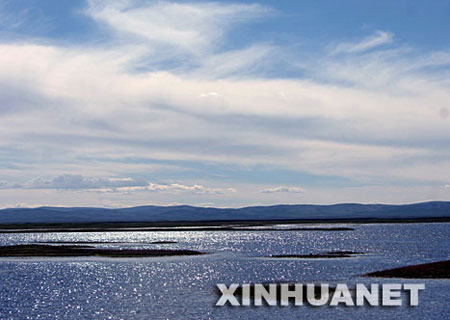 Photo taken on July 23, 2007, shows the Xinxinhai Lake restored to its original look, Maduo County, northwest China's Qinghai Province. (Xinhua Photo) The area of deteriorated grassland accounted once for 70 percent of the region's total, and more and more herdsmen were uprooted from their homes.
  According to remote-sensing data, since the 1980s of last century, low-water-season in the region could last as long as ten-plus years successively. The annual average water flow was decreased by 22.7 percent, water source got interrupted more than once and lots of lakes turned dry.
  To protect and restore the region's eco-system, with funds from the central government, the Qinghai Province started the project which includes measures of protecting vegetation, sealing hillsides and prohibiting grazing.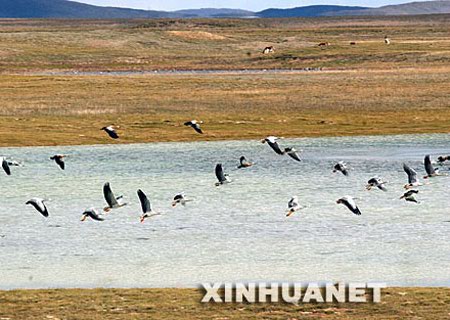 The picture shows barheaded gooses at a lake in the Sanjiangyuan National Nature Reserve in west China's Qinghai Province. (Xinhua Photo)
  Besides, in recent years, the locals also used biotechnology such as setting up stands to attrack eagles or biotoxin controlling to exterminate rats so as to improve the water-conserving capability of the grassland, said Li Dawei, deputy director of Maduo Agriculture and forestry Bureau.
  The lake-dotted area in the Yellow River region has expanded by different degrees, as dried lakes are refilled with water and their number reach more than 4000.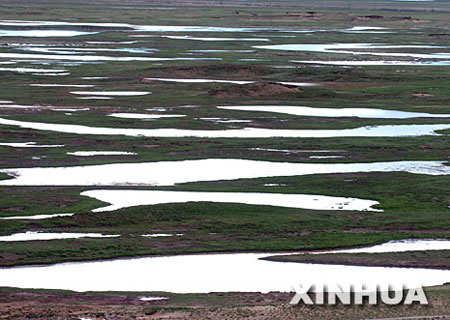 The picture shows the grassland and lakes in the source region of the Sanjiangyuan. (Xinhua Photo)
Editor: 卢佳颖 | Source: Xinhuanet