BEIJING, July 21 -- The 11th Panchen Lama has toured the construction site of the Tibetan Buddhist Institute in Lhasa. He says he hopes the new institute will train more monks to attain deeper religious scholastic achievement in the region.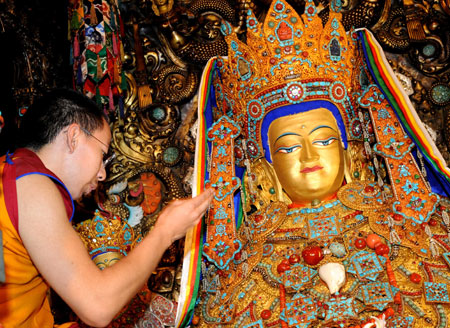 The 11th Panchen Lama prays for happiness for the Tibetan people and presented hada (a piece of silk used as a greeting gift among the Tibetans and Mongolians) to the statues of Buddhas while visiting the Jokhang Temple, the most renowned monastery in Lhasa, capital of southwest China's Tibet Autonomous Region July 15, 2009. (Xinhua Photo)
  The Tibetan Buddhist Institute in Lhasa's Quxu County is still under construction. The Panchen Lama visited the main buildings on the campus, accompanied by local officials. The Institute covers an area of 30,000 square meters and the government has invested 80 million yuan in the project.
  Soinam Rigzin, deputy chief of Tibetan United Front Work Department, said, "The Tibetan Buddhist Institute will be an advanced-level educational organization which aims to foster newly reincarnated living Buddhas as well as train monks who love the country and personnel on temple management."
  With the operation of the institute, about 360 students are expected to register each year. The major courses cover politics and Buddhism, and basic courses include common knowledge and temple management. The Panchen Lama expressed hope that the institute would boost religious learning in the region.
  The Panchen Lama, said, "The institute has a great design and plans for teaching. I hope you will complete construction on schedule and ensure its quality. And the teaching must be of a high standard."
  Part of the Tibetan Buddhist Institute will be completed in September. It will become the first high-level comprehensive school of Tibetan Buddhist religion.
  The Panchen Lama also visited the Treasure Chamber at the Potala Palace in Lhasa. Over 200 cultural relics there show how Han and Tibetan ethnic groups have co-existed harmoniously throughout history.
Editor: 卢佳颖 | Source: CCTV.com