It's time for the antelopes of Hoh Xil, an isolated region in the northwestern part of the Tibetan plateau in China, to begin breeding. Their migration signals the busy season for the Qinghai Hoh Xil National Nature Reserve staff, who this year will be watching out for tourists too.
  With an area the size of Denmark, the 45,000 square kilometers Hoh Xil nature reserve is the world's third-least populated area and the least populated area of the most populous nation on earth.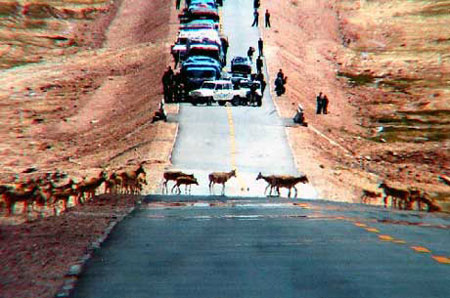 Staff of the Hohxil Natural Reserve help clear the passing traffic on the Qinghai-Tibet Highway to give way to migrating Tibetan antelopes for breeding, photo from Xinhua.
  This hostile climate for human beings creates a paradise for wild animals. The official Qinghai Hoh Xil National Nature Reserve website lists one species of reptile, six species of fish, 29 species of mammal and 53 species of bird.
  Patrols will now be watching not just for wild animals and armed smugglers but also tourists, management told Xinhua.
  While tourists are forbidden from entering key protected zones of the nature reserve, they are to be granted carefully monitored access to controlled areas, according to this year's controversial Ecotourism Plan for the Sanjiangyuan Area, Qinghai Province.
  The decision to convert a pristine wilderness into a tourism site did not please everyone. Many scholars worried that tourism might have a destructive impact on Hoh Xil's fragile ecosystem, but Cai Da, the Tibetan ethnic minority Party Secretary of the Reserve's Administration, said that living off government handouts was no way for the area to continue to make a living.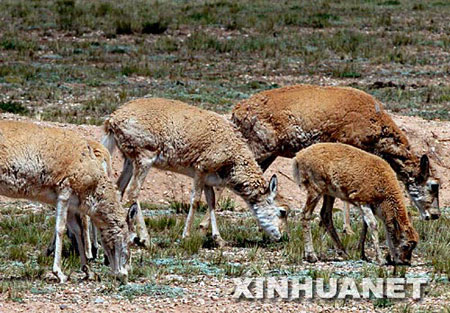 Photo taken on Aug. 21, 2007 shows the Tibetan antelopes foreaging on the grassland, photo from Xinhua.
  "I know the Administration is short of money," Yan Xiaohua, a former Hoh Xil volunteer told Oriental Outlook, "but I still worry about the ecological impact.
  "There's little chance of grass returning once it's been trodden to death."
  Even the actual organizer of the Hoh Xil ecotourism project expressed reservations.
  "We will limit the number of tourists to no more than 1,000 each year and less than 15 each time," Xiao Jinghui, a travel agent working for the Qinghai Hoh Xil National Nature Reserve told the magazine.
  This limit failed to dispel the worries of a Fengdu commentary column writer on the CCTV website. Wu Yinghai predicted the tourist limit might rise as profits rose and with them, environmental pollution.
Editor: 卢佳颖 | Source: Xinhua