Source:
05-06-2009 20:25
Italy is a country located on the Italian Peninsula in Southern Europe and on the two largest islands in the Mediterranean Sea, Sicily and Sardinia. Italy shares its northern, Alpine boundary with France, Switzerland, Austria and Slovenia.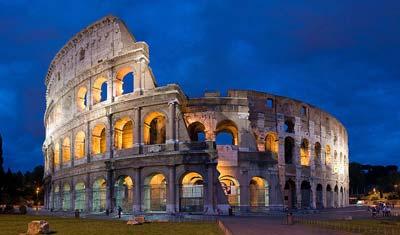 The Colosseum in Rome, perhaps the most enduring symbol of Italy.
The independent states of San Marino and the Vatican City are enclaves within the Italian Peninsula, and Campione d'Italia is an Italian exclave in Switzerland.
Italy has been the home of many European cultures, such as the Etruscans and the Romans, and later was the birthplace of the University, the Renaissance that began in Tuscany and spread all over Europe, Vitruvian Man, modern science and astronomy, heliocentrism and Opera.
Italy's capital, Rome, was for centuries the center of Western civilization. Italy possessed a colonial empire from the second half of the nineteenth century to the mid-twentieth century.
Today, Italy is a democratic republic and a developed country with the eighth-highest quality-of-life index rating in the world.[4] It is a founding member of what is now the European Union, having signed the Treaty of Rome in 1957, and it is a founding member of the North Atlantic Treaty Organization (NATO). It is a member of the G8, having the world's seventh-largest nominal GDP, and is also a member state of the Organisation for Economic Co-operation and Development (OECD), the World Trade Organization (WTO), the Council of Europe, the Western European Union, and the Central European Initiative. Italy is a Schengen state.
It has the world's eighth-largest defence budget and shares NATO's nuclear weapons. On 1 January 2007, Italy began a two-year term as a non-permanent member of the United Nations Security Council.
Editor:Yang Jie