Source: CCTV.com
04-17-2009 15:10
Taipei 101 is a landmark skyscraper located in Xinyi District, Taipei, Taiwan. The building, designed by C.Y. Lee & Partners and constructed primarily by KTRT Joint Venture and Samsung Engineering & Construction, is the world's tallest completed skyscraper according to the Council on Tall Buildings and Urban Habitat, the arbiter of tall building height. Taipei 101 received the Emporis Skyscraper Award in 2004. It has been hailed as one of the Seven New Wonders of the World (Newsweek magazine, 2006) and Seven Wonders of Engineering (Discovery Channel, 2005).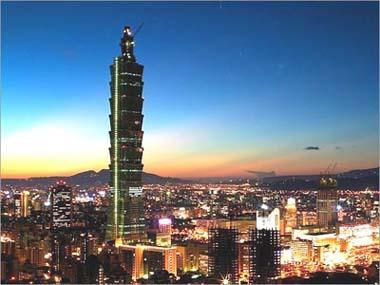 The building contains 101 floors above ground and 5 floors underground. Its postmodern style combines Asian and international modern and traditional elements. It is designed to withstand typhoons and earthquakes. A multi-level shopping mall adjoining the tower houses hundreds of fashionable stores, restaurants and clubs. Fireworks launched from Taipei 101 feature prominently in international New Year's Eve broadcasts, and the tower appears frequently in films, television shows, print publications, anime media, games, and other elements of popular culture.
The name of the tower reflects its location in Taipei's international business district (101 mailing code) as well as its floor count. The number is pronounced in English simply as One Oh One and in Mandarin and other local languages by the equivalent.
Taipei 101 is owned by the Taipei Financial Center Corporation and managed by the International division of Urban Retail Properties Corporation based in Chicago. The name originally planned for the building, Taipei World Financial Center, was derived from the name of the owner. The original name in Chinese was literally, Taipei International Financial Center.
Taipei 101 was overtaken in height on July 21, 2007 by the Burj Dubai in Dubai, UAE, upon the completion of that building's 141st floor. As of March 2009, the title of "world's tallest building" still rests with Taipei 101, as international architectural standards define a "building" as a structure capable of being fully occupied. The Burj Dubai will claim the title upon its completion, which is expected in September 2009.
Editor:Zhao Yanchen