Sister recalls Wong Fu-wing's life story
2010-04-21 16:26 BJT
Special Report: 7.1-magnitude Quake Hit Qinghai, China |
Wong Yuet-sau never thought that her younger brother Wong Fu-wing would become the focus of attention on TV, newspaper and the Internet. 46-year-old Wong Fu-wing was an ordinary truck driver and he had been enthusiastic in his public welfare activities and his work against poverty for many years. He always kept a low profile and thought that he did not need to tell others what he did because he was just doing what he should do. He even thought what he did was just what an ordinary person should do and it was not worthy of being mentioned.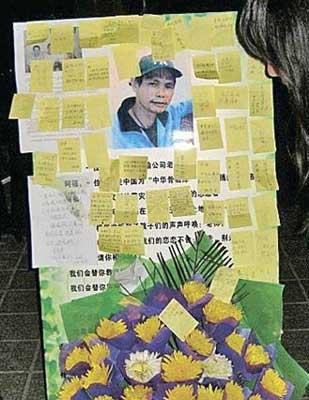 Wong Fu-wing from Hong Kong died in an aftershock
while saving lives in Yushu.
However, Wong's story of losing his own life in order to save others in the Yushu earthquake is now celebrated throughout the land and people have mourned for him in various ways to express their grief and respect. Among them, there are his fellow volunteers and those whom he has helped, but most people are those who never knew him. The citizens of Hong Kong called him "the pride of Hong Kong's people " and compatriots on the Chinese mainland have also praised him as "a genuine hero."
"From an affectionate point of view, we would rather he is an ordinary person and that he had not gone Qinghai," Wong Yuet-sau said with grief, "although he sacrificed his life in doing volunteer work, we still support and respect his decision."
Wong Yuet-sau still remembers the morning of March 30 when she saw off her younger brother, Wong Fu-wing: he planned to first go to Lanzhou by train and then to the Yushu Benefaction & Good Wishes Orphanage to do volunteer work. That morning, Wong specially said goodbye to his mother, who is 80 years old, and left after he had tea with his family. Before leaving, he looked very excited and told Wong Yuet-sau, his third elder sister, "I finally found an institution that sincerely does good work for the orphans."
After reaching Lanzhou, Wong gladly told his third elder sister on the telephone that Linzi, the person in charge of the Western Loving Heart and Public Welfare website, and the president of the Benefaction & Good Wishes Orphanage are all serious about their mission and with them, he would have an opportunity to do something for the children. Unexpectedly, this was their last conversation.