Before the NPC and CPPCC sessions opened, several CPPCC members paid a visit to Tangjialing where a great number of young people with low incomes live. When talking about the report that "CPPCC members visited "ant tribe" and were brought to tears," the "ant tribe" has mixed feelings: "We would like to believe their visit and tears are true and honest, but we do not need sympathetic tears." "We are also ordinary people and have our own way of living. We do not want to be a "special group" under the spotlight and be constantly talked about." Some young members of the "ant tribe" said frankly, "We do not need political hype and unnecessary worry. Please do not see us from a commanding position. We live well, and we need dignity as well." Some members of the "ant tribe" worry that these reports will accelerate the demolition of Tangjialing, and as a result, they will have to find shelter that is even further away from central Beijing.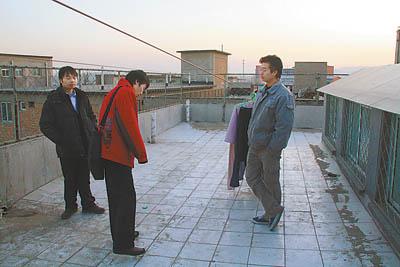 After returning to home from work, tenants are waiting for
another roommate who carries the only key to their "home".
We do not need to expensively "be improved"
For most low-income graduates, the biggest attraction of Tangjialing is the low cost of living. A 20-square-meter room with a kitchen and toilet costs between 350 yuan and 700 yuan a month. You can also rent the room with others, and one person has to pay only just over 100 yuan a month on average. There is also a market in Tangjialing, where the price of fruit and vegetables is only half that of central Beijing. Two plates of dumplings cost only ten yuan at the dumpling restaurant in the village. Additionally, transportation here is very convenient. Consequently, Tangjialing became the top choice for the "ant tribe" who work in Zhongguancun and Shangdi.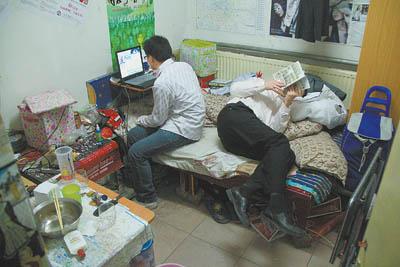 Xu (left), who works in a bank, and his workmate are crammed
in a less than ten-square-meter room that costs 450 yuan
per month.