"It is pleasing to witness the professional dedication of China's anti-riot squad and other peacekeeping forces, as they effectively curbed the frequent violence occurring near downtown Port-Au-Prince. The free market trading is recovering and people's lives are close to returning to normal", said Mark, a Canadian police officer at the United Nations anti-riot squad office in Haiti, after inspecting the public security status near Port-Au-Prince's downtown area.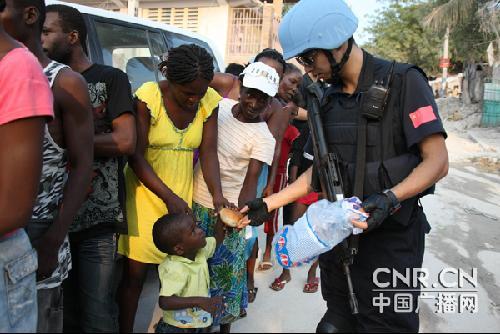 Handing out bread to children in Haiti
Downtown Port-Au-Prince is the political center of Haiti and is also the area that was hit heaviest by the earthquake. Collapsed skyscrapers and residential buildings can be seen everywhere, even the presidential office could not escape the earthquake. Because it was heavily damaged, this area was still very dangerous two months after the earthquake, and most of the collapsed houses had not yet been cleared. The disaster victims built makeshift tents in open areas, but due to inadequate management, the place was full of stench and dirty water. Furthermore, the public security was also very poor, with violent incidents including robberies and shootings occurring frequently. After much consideration, the United Nations anti-riot squad in Haiti decided to delegate the duty of maintaining the area's public safety to the professional Chinese anti-riot squad.
Members of China's anti-riot squad conduct armed patrols, track down and apprehend criminals in Port-Au-Prince's downtown areas such as Carrefour, Petion-Ville, Delmas, Fort National and Croix des Bossales. They also stand guard at the Haitian presidential office, the headquarters of the anti-riot police of Haiti, the National Taxation Bureau, and the residence of the commissioner general of the United Nations Mission in Haiti. They also capture escaped prisoners and issue disaster-relief materials on the streets. They basically work 24 hours per day and face an extremely heavy work burden. At times, they dispatch 75 policemen to perform all kinds of tasks in a single day.