Well-known magician Louis Liu gave several close-up magic performances during the 2010 CCTV Spring Festival Gala and 2010 CCTV Lantern Festival celebration ceremony, creating a wave of online popularity of magic – information about the secrets behind the magic as well as magical accessories and tutorials. There is such a magic lover in Chengdu, a male fourth-year college student. He is not only a sophisticated magician after nearly 4 years of practice, but has also opened an online shop selling various types of magical accessories.
Thanks to the magic fever brought about by Liu during the Spring Festival, the student's online shop has had fantastic sales totaling over 10,000 yuan in February.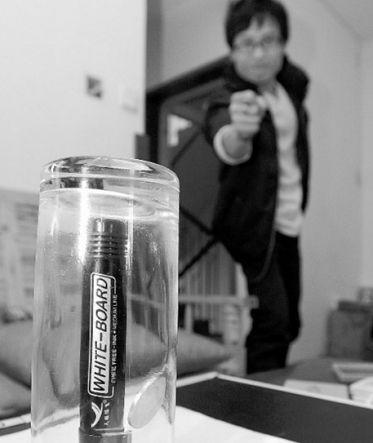 College student makes a profit by selling magic accessories
on-line
A magic lover opens an online magic accessory shop
At 2 pm on March 2, 25-year-old Zan Linbao put a piece of black cloth on the table and took out a deck of cards in an apartment on the seventh-floor of a building within the 20th community in Nanyi Road area of Erxianqiao District. He divided the cards into 2 piles and rapidly shuffled the cards, and then asked an audience to randomly take out a card and then randomly insert it back to the cards. He shuffled the cards again before turning over the top card on the piles – the card was the one that was taken out a moment ago. This is simply one of the close-up magic tricks that Liu performed.
After the card trick, Zan performed a magic trick where he put a mobile phone into a narrow-necked bottle that Liu had performed several times. He took out an intact water bottle and asked to use the reporter's mobile phone. Then, Zan held the plastic bottle at his right hand and moved the mobile phone using his left hand to approach the bottle and saying, "One, two, three, enter." Along with his words, the black mobile phone fell into the plastic bottle.
"I can do most of the close-up magic tricks performed by Liu," Zan said. He has been fascinated with magic for almost 4 years. He is from Dongxi township of Guangyuan, and entered Sichuan University's Jincheng College majoring in E-business in 2006. Shortly after entering college, he was fascinated by magic when he saw a simple rubber band magic trick performed by the college's magic association, after which he joined the association. He had already been able to do some magic on stage when he was a third-year college student.