In two days, an investigation group will return to Beijing from Japan. Every night, the resident representative Huang Xiaoshan, whose nickname is Donkey Droppings, repeatedly tells the reporter about the "garbage sorting" over the telephone. "What I oppose is burning the waste before sorting it, not the incineration technology!" he said. In his opinion, it's better to discuss pre-sorting the garbage rather than arguing about the tail-end disposal methods such as burning and disposing in the landfill.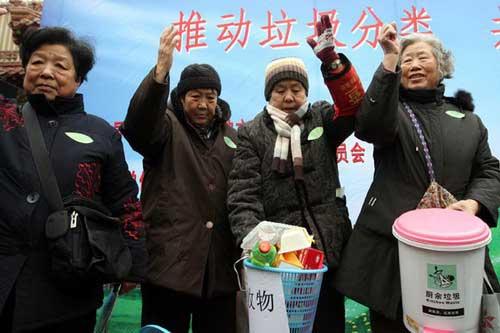 People are taking part in a garbage sorting contest
The 2010 Beijing Municipal Government Work Report has explicitly proposed to "sort the daily and kitchen garbage in all new and expanded communities and other social units," and to "explore reforms to the garbage collection fees." Currently, the Beijing Municipal Regulation of Household Garbage Management is being drafted.
Though the term first entered citizens' minds more than 10 years ago, "garbage sorting" has been faced with one problem after another in actual operation. Our newspaper office has been following the Jiangong Nanli Community in Xuanwu District, which has been called "China's first green community" and has become a pilot project for sorting garbage as early as 1997. In the past 12 years, the community that covers an area of 23,000 square meters had achieved some achievements but at the same time has failed in other ways.
Hardware
Beijing's first trash sorting and recycling base
There are six trashcans in front of every building and a total of 30 in front of the five residential buildings
One trashcan for used batteries
One machine is used for disposing of the organic household garbage including kitchen garbage
One salvage station