A series of cultural activities --- the 20th Flower Show, Yangko Dance and Fitness Activity was held in the Fuqian Street, around the theme of "Taking Beijing as My Home and Spending a Happy Spring Festival." Characterized by wonderful performances, zealous applause and smiling faces, the century-long gala created a new upsurge in the Spring Festival celebration.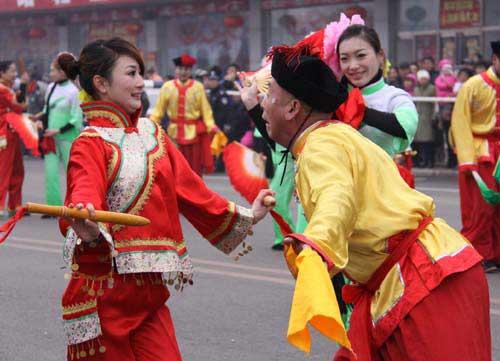 Flower Show and Yangko Dance staged in Pinggu for festival
Called the "carnival of Pinggu residents," this is the 20th time the gala has been held in Pinggu. The peaceful and interesting gala has attracted many people and won much affection. During last year's Spring Festival, a CCTV program--"the Same Song," sent a professional cameraman to record the gala and then produced a program titled "Farmer's Smiling Faces." Now, "Farmer's Smiling Faces" has become the title of a well-known cultural activity held in the suburbs of Beijing. Adhering to the philosophy of "healthy life and happy fitness," Pinggu District will combine folk arts with national fitness, enabling everybody to live a happy and healthy life.
At 9:00 am, colored flags flew and the deafening sound of gongs and drums could be heard on Fuqian Street. More than 4,100 costumed people attended the Yangko, dragon and lion dances, handcart and wheelbarrow races and special rope skipping on the 2.5 kilometer-long highway extending from the Qianlima Roundabout to the Dalong Roundabout. Led by 21 floats, more than 80 teams from Pinggu District's towns, sub-districts, government organs, schools, army units, public institutions and businesses, as well as the 3 teams from outside Beijing, performed while moving forward.
The gala contains many colorful modern elements and combines traditional elements with modern elements. At the same time, it also combines culture with sport, and domestic culture with foreign arts. With unique regional characteristics and numerous highlights, it acts as a collection of folk arts, as well as an event promoting happy fitness. Visitors can not only view traditional performances such as stilt-walking, land boats, dragon and lion dances, but also view a series of sports performances. It reflects the deep cultural identity, civilization and modern atmosphere in the green valley in eastern Beijing, embodies the ambition, enthusiasm and optimism of the local people, and creates a happy, peaceful and harmonious cultural atmosphere in Pinggu.