In 2009, the "Ant Tribe" created much attention among people. They are the "university graduates low income group." Although living in big cities, they do not live in bustling city center but in the urban and suburban border areas where the rent is cheap.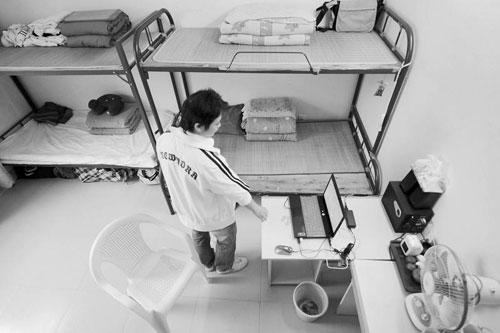 "Ant tribes" in Beijing: small fish in a big pond
Why do so many young people with higher education choose to crowd in the big cities? In China which has been developing at a substantially high speed, will they realize their own value only by staying in big cities? Recently, according to a survey conducted by the Social Investigations Center at China Youth Daily, which inquired 18,854 people from 31 provinces including districts and cities through qdick.com and minyi.net.cn, over 50 percent (about 53.5 percent) think that young people unnecessarily crowd in big cities, and 39.7 percent insist on that "only by living in large cities can they realize their value." Among the respondents, 60 percent are from the post-1980s generation and 25 percent are from the post-1970s.
"While in Changchun, I had the priority to select a boy to be my husband, but how do I become a spinster in Beijing?"
After training more than half a year in a government training institution in Beijing, Wang Jingjing, a graduate student majoring in environmental sciences at Peking University, determined her job objective, to work in a medium or small city. "Many of my classmates think that as long as they can stay and have a registered permanent residence in Beijing, it does not matter that that they have low wages. But I do not think so. In big cities, the companies hope to recruit graduate students to do the jobs which are simple even to the undergraduate students. I think it is a kind of human resources wasting."
Currently, Wang received quite a few acceptance notifications from companies in medium and small cities, all of which value her famous university background. "It made me feel that I can play my advantages even more in the medium and small cities." Wang said that there are many talented people in the big cities, so it is hard for her to have her day, even if she finds a job. "I would rather go to some livable cities such as Suzhou and Hangzhou than to the big cities with enormous populations and traffic jams."
Where do young people prefer to seek their fortune? In the survey, Beijing, Shanghai and other large cities are still the first choice (43.2 percent), yet 28.2 percent said that they want to go to Xiamen, Qingdao and other beautiful and livable cities. 25.6 percent chose second-tier cities in the economic areas such as the Yangtze River Delta, Pearl River Delta, 19.5 percent chose the capital cities, and 18.8 percent were willing to return to their hometown.