28-year-old Zimbabwean Vimbayi Kajese first came to China for a visit in 2004, then moved to Beijing in 2006. She now works as the early morning news presenter at CCTV-9, the English Channel of China Central Television. She is the first African news presenter on the Chinese Mainland and perhaps the whole of Asia too. Her bright smile, eloquent diction and elegant demeanor have impressed millions of TV viewers and Internet users around the world.
While doing her first degree in the U.S, Vimbayi Kajese won an all-expense paid scholarship trip to China. It was on this trip, in 2004 that she first fell in love with the country. She was fascinated by the culture, the food and of course the people. After completing her undergraduate degree, she chose to leave the United States and pursue a Master's degree in International Relations and Diplomacy at China Foreign Affair's University in Beijing. After graduating from CFAU, Kajese decided to stay in China and develop her career.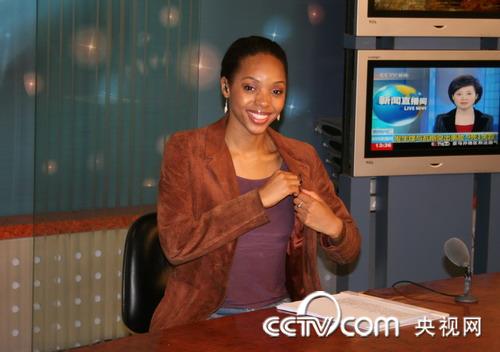 VK in the CCTV-9 studio
On November the 27th 2009, we sat down with Ms Kajese at CCTV.com's headquarters to talk about her experiences. We got a chance to find out how this beautiful young lady views the world through some of the questions you the viewers have been asking about her.
CCTV.com: When people think of Africa, they think jungle, heat and adventure. But what's the first thing you tell people when they ask you about your continent?
Vimbayi Kajese: You know, people normally associate Africa with wild life and the safaris. But the true essence of Africa that I'd like to stress first and foremost is the people. Unfortunately, through the one-dimensional lens of the media, we the people have been relegated to the background of the wild life spectacle. The real adventure and beauty of Africa is through engagement with us the people; understanding our vastness in terms of cultural, religious and racial diversity; it's too grand to be summed up in a few words, let alone be represented by one person and or one nation alone.